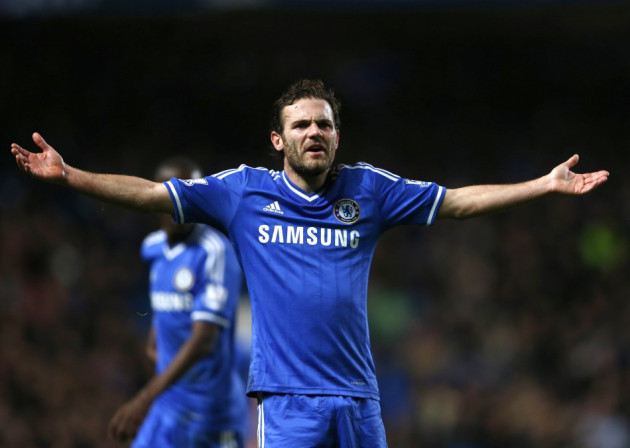 Chelsea midfielder Juan Mata has bemoaned his side's inability to convert their chances after suffering a last minute defeat to Stoke City.
Jose Mourinho's side entered Saturday's game high on confidence having plundered four goals against Sunderland at the Stadium of Light just days before, but visibility struggled to add to their tally at the Britannia Stadium as Andre Schurrle sought to make up his side's lack of composure in a 3-2 loss.
The Germany international scored two well taken goals and was unlucky not to seal a hat-trick. But the Blues wasted chances from elsewhere in the team before Ossouma Assaidi's last minute effort was enough to seal a late win for the home side, despite the Blues going 1-0 up.
Writing through his weekly blog, Mata expressed his disappointment with the result and his frustration with his side's profligacy in front of goal.
"This last week we couldn't get back to back wins. On Wednesday we had to work very hard to beat Sunderland, but on Saturday we weren't able to win at Stoke City.
"And it was a pity, on our way back to London on the bus we all had the feeling that we could've won. We had chances especially in the first half, but we reached the last few minutes with a 2-2 and an open game, and a great goal from Assaidi left us with no points.
"We must learn that, in football, when you have the opportunity to put distance with your opponent, you have to do it. Otherwise you may have to pay for it, as it happened to us this weekend."
Chelsea's loss allowed Arsenal to open up a five point gap at the summit of the Premier League. Following the loss to Stoke City, Mourinho was in an equally disenchanted mood, admitting his side were in "trouble" after suffering their third loss of the season.
"I don't feel comfortable enough to tell you what I think about the game. We're in trouble," he told BBC Sport.
"It is a concern (conceding so many goals). I don't like it. I don't organise my teams to be like this."