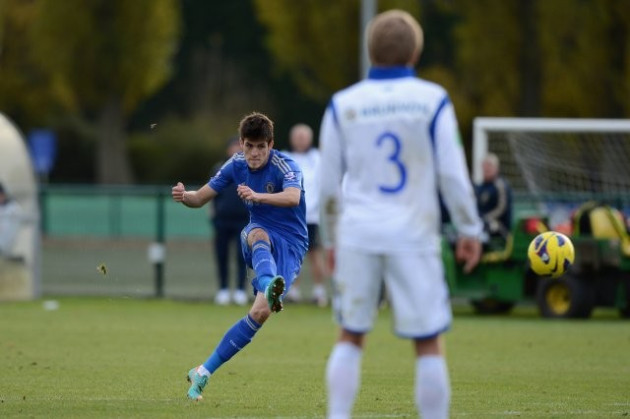 Chelsea fans have been left purring after the recent performances of summer signing Oscar and it seems they may not have to wait too long for the next Brazilian starlet to make an impression at Stamford Bridge.
Already in the youth ranks is 18-year-old Lucas Piazon who made the bold decision to leave Sao Paulo and attempt to make a name for himself in a Chelsea squad which is brimming with attacking talent.
The first team is blessed with undeniably gifted attacking trio of Juam Mata, Oscar and Eden Hazard. Three players who make the game look outrageously simply and who possess the type of talent that many professional footballers can only dream of.
Piazon possesses many of the same attributes that make this trio so dangerous. He has the natural flair that makes Brazilian footballers so special, yet there is far more to his game. He reads the game superbly well for a teenager and has drawn comparisons to Real Madrid midfielder Kaka.
"I'd say my playing style is different from typical Brazilian forwards," Piazon told the Telegraph when he first signed for Chelsea. "When you think about these, you think about dribbles and flashy moves. My football is simpler and more direct. It's more like a midfielder playing up front. I like to pass quickly. I don't hog the ball and I don't tend to run with it."
In many ways he is similar to Oscar, slightly built but 6ft tall, he is able to assert his dominance on games and last night proved his prowess as he helped Chelsea secure a 6-0 win over Molde in NextGen competition.
Piazon had a hand in three goals as his sublime pass to Islam Feruz led to the forward opening the scoring, Another well weighted through ball found Reece Mitchell for the third goal, before the attacking midfielder capped his display by curling home a free-kick from 20 yards.
The NextGen competition is viewed as a youth Champions League and it provides players with a chance to demonstrate to their managers that they are good enough to force their way into the first team.
Piazon's display will certainly not have gone unnoticed by Roberto Di Matteo who, only last month, spoke in glowing terms about the performances of the young Brazilian.
"Lucas Piazon is a young, talented player that has come into the first-team squad this season. He's made an appearance in the cup and he's somebody that we would like to progress. He has a good chance of becoming a top player," said the Italian boss.
Piazon has an exceptional record for Brazil at youth level where he has scored nine goals in 15 appearances for the Under-17 side and did help Chelsea win the FA Youth Cup last season.
If he continues to excel then it will not be long before Di Matteo thinks about pairinig Piazon with his international colleagues Oscar, Ramires and David Luiz in the Chelsea first team.