Chelsea manager Antonio Conte escalated his feud with Jose Mourinho by calling his Manchester United counterpart a "little man" and "fake".
The Blues boss could not hide his contempt for Mourinho after the London club's goalless draw with Norwich in the third round of the FA Cup on Saturday, 6 January, using most of the post-match press conference to hit out against the United manager.
Conte was enraged by Mourinho's reference to a four-month suspension that the Italian served in the 2012/13 season for failing to report match-fixing at previous club Siena. The former Juventus coach was, however, cleared of any wrongdoing in the scandal by an Italian court in 2016.
"Before you make these type of comments, you must pay great attention, otherwise for sure you are a little man," Conte was quoted as saying by the Sunday Times.
"I know [Mourinho] very well from the past. He was a little man in many circumstances, he is a little man in the present and, for sure, he will be a little man in the future. Also, he wants to try to change his behaviour but you know him very well and the level is very low."
He added, "When [former Leicester City boss Claudio] Ranieri was sacked, he put on a shirt for Ranieri. You are a fake. I think you have good consideration for a person or not. It doesn't change your opinion to be more sympathetic. If you want to fight a person, you try to kill this person. And then, after two years, you try to help this person, because maybe it's good for you, for your profile.
"It will be the opportunity in the game against United when we go to Old Trafford [in February]. Me and him face-to-face. I'm ready. I don't know if he's ready."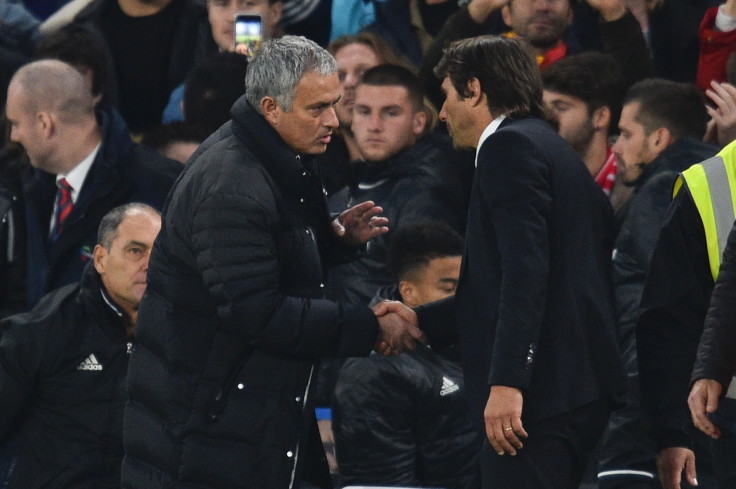 The feud between Conte and Mourinho began after the former took exception to the Portuguese manager's comments that he did not need to act like a "clown" on the touchline to display his emotions.
The United boss later insisted that the comment was not directed towards Conte, but added, "The only thing I want to say to end the story is that, yes, I made mistakes in the past on the touchline. Yes, I will make less but I think I will still make a few.
"What never happened to me – and will never happen – is to be suspended for match-fixing. That never happened to me and will never happen."