Chelsea Manager Jose Mourinho Stokes Fire With Manchester City's Manuel Pellegrini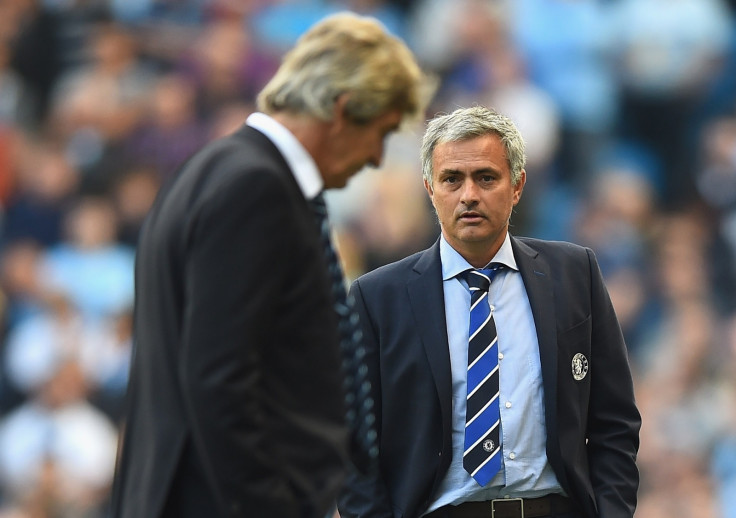 Chelsea manager Jose Mourinho has accused Manchester City boss Manuel Pellegrini of hypocrisy after the Chilean criticised the Blues of defending like a "small team" in the 1-1 Premier League draw at the Etihad Stadium.
The Premier League leaders approached the game in a dogged manner and though they went ahead through Andre Schurrle's goal, which followed Pablo Zabaleta's red card, Frank Lampard struck late on against his former club to grab a point.
Pellegrini compared Chelsea's defending to that of Stoke City during their 1-0 win at City earlier in the season and Mourinho has hit out at his counterpart by claiming he continues to go back on promises to not talk about opposing teams.
"I don't have a reaction," Mourinho said. "I think you should ask him not me because it was not one or two or three times that he said he doesn't speak about referees or Mark Clattenburg.
"It was not two, three or four times he says he doesn't speak about me or my teams and he did it once more so I think it is for you to comment. I don't want to speak about him and that's what I try to do.
"If you want a story, you have to speak with him. I follow my line I don't want to discuss any situation in relation to that."
Ahead of the visit of Aston Villa on Saturday 27 September, Mourinho has confirmed Chelsea striker Diego Costa will be available as fears over the Spaniard's hamstring injury persist. However, midfielder Ramires faces several weeks out with an abductor problem.
"[Costa] plays tomorrow and starts the game without problems; the question is always the same," the Chelsea manager said. "Can he play the game, can he finish the game and be in condition [to play] in Lisbon 48 hours later?
"A question I don't know because I don't think about Sporting or the Champions League. He plays the game for sure and he is in very good condition to start.
"If he doesn't play against Sporting he doesn't play. The Villa game is tomorrow and Tuesday is another game and another story and I don't think about the Sporting game.
"I play with the best team and try to win against Aston Villa. The consequences after that I have to face and organise a team to play Sporting.
"Everyone is working hard and he is the first one to do that. This week, he was working hard on his condition. He works with the medical department and he is trying to be ready for every game.
"He is ready for every game but physically, he is not. Everyone is trying hard for him to be able to play every game.
On Ramires, Mourinho said: "It is a muscular injury, so he is not to play Tuesday or against Arsenal. He needs the international two-week break, he needs that time so maybe he can be back after that."
© Copyright IBTimes 2023. All rights reserved.