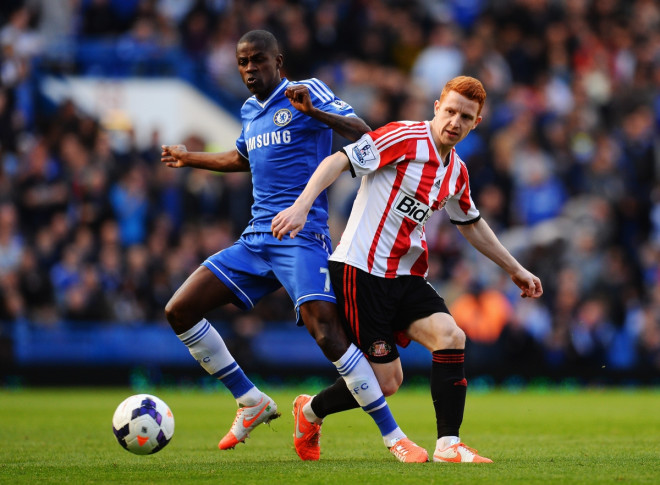 Chelsea midfielder Ramires will miss the remainder of the season and the first game of the 2014/15 campaign after accepting an FA charge for violent conduct.
The Brazilian clashed with Sunderland's Sebastian Larsson in an incident that was not seen by referee Mike Dean but was captured on video in last Saturday's game at Stamford Bridge.
Ramires' ban immediately rules him out of Chelsea's pivotal clash with Liverpool at Anfield on Sunday.
The ban includes three games for the offence and an additional suspension having already been sent off this season against Aston Villa just last month.
Chelsea manager and assistant Rui Faria are yet to respond to separate charges of misconduct.
The Portuguese coach was reprimanded for his post-match criticism of chief of referees Mike Riley, comments which were judged to have called into question the integrity of the officials involved.
His assistant Faria was handed two charges of misconduct after having to be physically restrained by Mourinho and members of the Chelsea backroom staff as he sought to confront Dean after he awarded Sunderland a decsive penalty following a challenge from Cesar Azpilicueta on Black Cats forward Jozy Altidore.
Both have until 6pm on Monday 28 April to respond to their charges.
"I want to congratulate again Mike Dean," Mourinho said following Saturday's game. "I think his performance was unbelievable and I think when referees have unbelievable performances, I think it's fair that as managers we give them praise. So, fantastic performance.
"He came here with one objective. To make a fantastic performance. And he did that. And congratulations also to Mike Riley, the referees' boss. What they are doing through the whole season is fantastic, especially in the last couple of months, and in teams involved in the title race. Absolutely fantastic.I also congratulate Mr Riley."