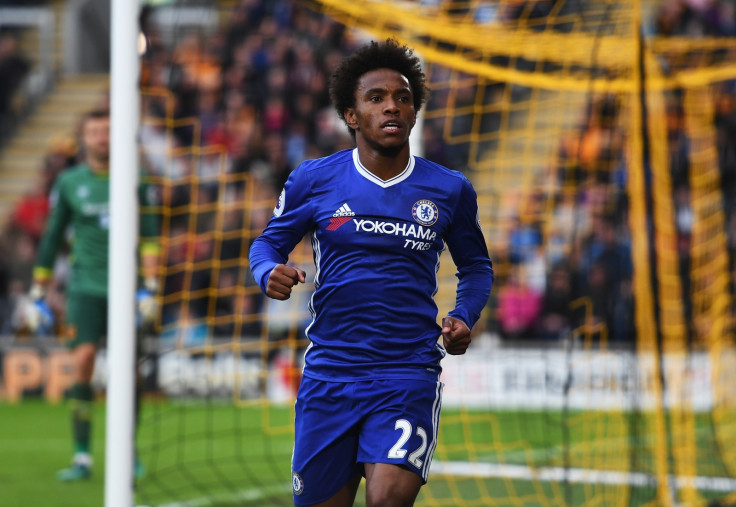 Chelsea midfielder Willian has dismissed reports linking him with a big-money switch to Paris Saint-Germain – and revealed he would like to end his career at Stamford Bridge. The 27-year-old Brazilian is a rumoured transfer target of the cash-rich Ligue 1 club, but has insisted he is happy in West London.
Willian was voted Chelsea's player of the year last season, amid an underwhelming campaign for the Blues, and has revealed he would be happy to extend his contract and retire at the club.
"I read some things in the press on this topic but personally, I never received a concrete offer from PSG," the Chelsea winger said, according to France Football. "My family feels good in London and I love the Premier League, which is the best in the world.
"I am growing in a team that plays beautiful football, something that is important in my eyes. For all of these reasons, I intend to see out my contract and perhaps even extend it a little further if the club offers me the chance. It would be a privilege to finish my career at a club as big as Chelsea."
Earlier this year, Willian revealed ex-Chelsea boss Jose Mourinho was keen to take him to Manchester United. The duo formed a successful professional relationship while at Stamford Bridge and Mourinho was apparently keen to rekindle their partnership at Old Trafford.
"I have a great relationship with Jose, but I am Chelsea," Willian previously said, as quoted by the London Evening Standard. "Of course, when someone like [Mourinho] is interested in you then you are happy. But I signed the contract because I like being a Chelsea player and I see good things here."
The Chelsea winger added: "I signed a new contract and that shows how much I want to stay here. But the simple thing is that I want to win titles. To win titles you have to improve and if we can do that then we have a great chance to win titles this season.
"We have the players to do this – and the manager. We must work hard and when we have the ball then we have to play good football. This season it can't be just about defence, defence, defence. We have to play good football and attack."