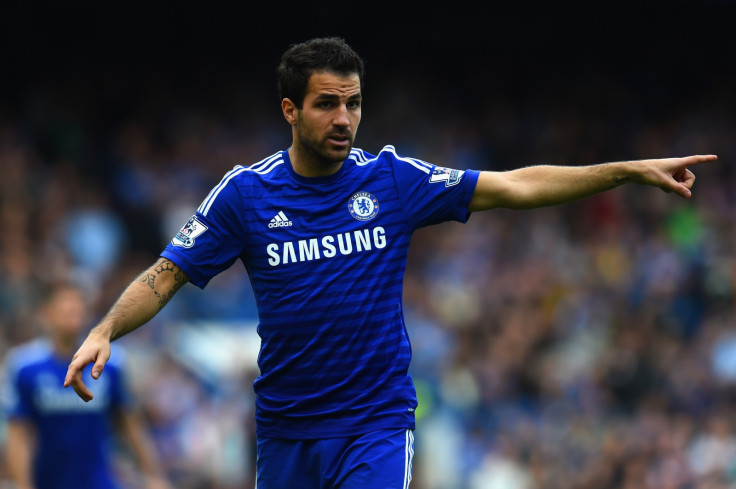 Chelsea midfielder Cesc Fabregas says Jose Mourinho has a lot in common with his former managers at Arsenal and Barcelona, Arsene Wenger and Pep Guardiola respectively, but refused to reveal who is the best among the three.
The Spaniard developed as a professional at Arsenal under Wenger after leaving the Barcelona academy when he was youth player before deciding to return to his childhood side.
But after failing to make the impact expected at the Camp Nou under Guardiola, Tito Vilanova and Gerardo Martino, the Spaniard returned to the Premier League in the summer of 2014 to play for Mourinho at Chelsea, even though they had had a tense relationship during their time as rivals in La Liga.
Speaking with Spanish radio station Cadena Cope, Fabregas revealed he was enjoying his time at the west London club and had built a strong relationship with the Portuguese boss.
Asked whether there were similarities between his current boss and his former managers at Arsenal and Barcelona, he said: "There are differences between all the coaches but the three [Mourinho, Wenger and Guardiola] are very competitive, they like to win."
"They focus a lot on the rival, they want their team to be the dominant side but being always aware about who the rival is and how you have to play against them. They are coaches that spoon-feed the players on how you have to start a game, how the rivals play... The truth is that it has been a very important step ahead in my career having being managed by these three managers.
"I don't have to say who is the best or who is the worst. I have learnt a lot in all my spells at Barcelona and at Arsenal. And now with Mourinho I am learning a lot and hope to be with him for many years.
"I go day by day. I started the season with a lot of energy and trying to give my best. Little by little my relationship with Mourinho is better because the day-to-day relationships make it stronger. And our relationship is very strong. I have learnt a lot from him and I am very grateful for everything he did to bring me to Chelsea and to trust in me."
Fabregas has helped the Blues secure both the Premier League and the League Cup in his debut campaign at the club but was left frustrated by the Champions League, after Chelsea were eliminated by Paris Saint-Germain in the last 16.
He added: "If I have to give it a score, I'd give a seven or eight. It has been a great season, winning two trophies. The only blow you can think about was the tie against PSG. We were solid, consistent and we have competed very well, although it is true that the second leg against Paris Saint-Germain is the negative thing I most remember from the season."