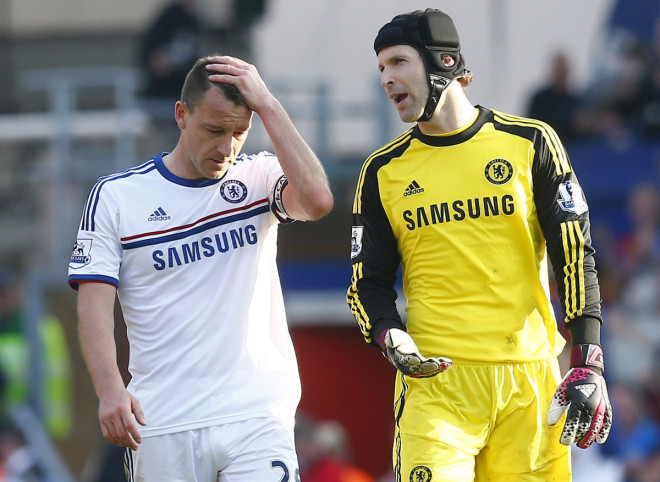 It was a bad night for Chelsea in Paris, one which ended as miserably as it had begun. With two minutes of injury time to go, PSG substitute Pastore somehow managed to elude the challenges of Azpilicueta and Willian near the right hand corner flag. He then skinned Frank Lampard as he sped in to the box before unleashing a clinical drive beating Petr Cech low at his near post.
Whatever happened to players corralling the ball by the corner flag in the dying minutes of a game to waste time? An English manager would have been apoplectic with rage but to be fair to Laurent Blanc and Pastore they went for the third goal that could be a killer blow for Chelsea's Champions' League aspirations this season.
In truth, it was the third time the Chelsea defence had let themselves down by conceding a needless goal. Surely Pastore should not have been allowed to beat three Chelsea players in such a dangerous position so easily, and Petr Cech will rightly be very unhappy at not getting down quickly enough and conceding a goal at his near post.
After the match a contrite Gary Cahill (although he had no need to be so down, as he was one of Chelsea's best performers during the match) confirmed that it was "a horrible time to concede" such a "sloppy goal". After a season where the Chelsea defence has been so impregnable and indeed has gone a long way towards putting Chelsea near the top of the Premier League, it was ironic that their mistakes have now heaped the pressure on the misfiring strikers to get Chelsea out of a hole next week.
But as both Cavani and Lavezzi will remember from their time at Napoli, you can't write Chelsea off when they are 3-1 down in a Champions' League tie. As Jose Mourinho himself pointed out after the match the return leg will be "difficult but not impossible, nothing in football is impossible".
The real difficulty that Chelsea have is that they still play a style of football requiring a strong striker who can hold the ball up on his own, and bring in others or create chances for himself. When Chelsea beat Napoli against the odds in 2012 they had Didier Drogba, a striker who was arguably the best in the world at doing precisely that.
The truth is that Fernando Torres has never been that type of striker, and haunted by the 'Ghost of Drogba' sadly never will. Torres' goal scoring record has been much better in European competition than it has domestically, but he has lost the trust of Mourinho and owner Roman Abramovich.
Just as worrying is the talent of PSG, funded by the extreme wealth of their Qatari owners. Ibrahimovic's pacey replacement last night, Lucas Moura, looked particularly dangerous, and if PSG opt for a counter attacking game next week his speed will be a major concern.
Yet for all the ability in their armoury, PSG have not yet scaled the heights of European football. In the first half they played with particularly brittle belief last night, suggesting they don't believe they belong at this level. Chelsea have to exploit this at Stamford Bridge.
All Chelsea supporters will be hoping that the 'spirit' of that fantastic night against Napoli two years ago can be resurrected next Tuesday, and that is something you cannot plan for.
David 'Stamford Chidge' Chidgey presents the award winning Chelsea FanCast TV show and podcast which can be seen every Monday at 19.00 on SportsTonightLive.com or You Tube or heard at mixlr.com/chelsea-fancast/ or downloaded from ITunes. Follow us on twitter @StamfordChidge and @ChelseaFanCast