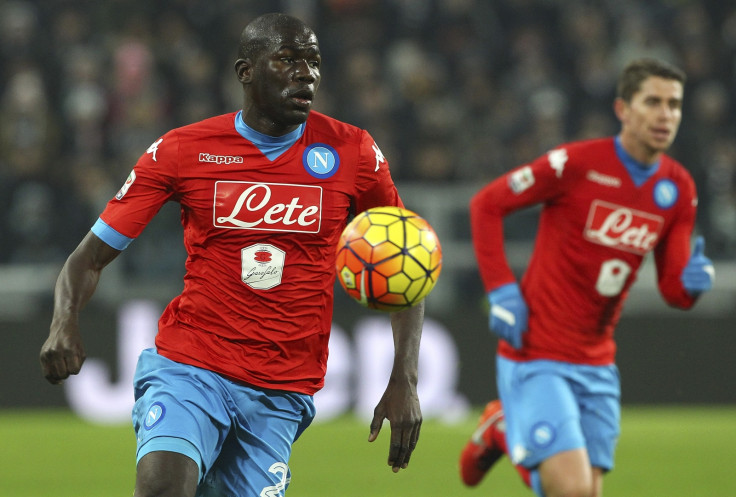 Napoli president Aurelio De Laurentiis has accused defender Kalidou Koulibaly of breaching the terms of his contract and warned he will sue Chelsea if it emerges the Premier League side have spoken to his player.
Koulibaly, 24, enjoyed an impressive last season as Napoli finished second, securing automatic Champions League qualification. But the centre-half has since risked the wrath of his club after giving a controversial interview with L'Equipe where he explained he is unhappy with his current contract and expects to hold talks with incoming Chelsea boss Antonio Conte in the very near future.
"Big clubs want to sign me and there is no sign of a renewal with Napoli," he said. "The negotiations for a contract extension have stalled and they never wanted to discuss with us. I have not talked to [Conte] but that may be soon.
"If nothing happens at Napoli, I will start to have contact with other clubs. The game in England could be suitable for me but I like Italy, I do not press for a transfer but I hope to sign a renewal with Napoli or we proceed to other solutions."
Napoli president De Laurentiis has reacted angrily to his comments, insisting they may have cost the club millions in commercial revenue.
"I thought Koulibaly was a good man. The moment I realise you and your agent haven't read the contracts properly before signing them, I cannot tolerate that," he was quoted as saying by Corriere dello Sport.
"Napoli were about to sign a new commercial deal to use Koulibaly's image, but his statement cancelled those opportunities. His shirt cannot be sold now.
"He created damages worth millions of euros and I have specialists studying the issue."
De Laurentiis went on to suggest if he finds out Chelsea have made contact with the player without Napoli's approval and urged him to make his comments, then he won't hesitate to take legal action.
"If we discover that Chelsea were behind this, we could sue them for damages. Koulibaly is 24, he is not a kid."