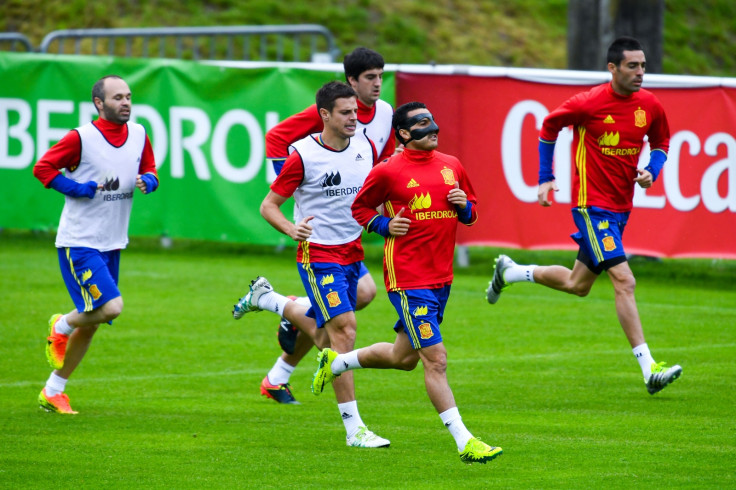 Incoming Chelsea manager Antonio Conte has told Cesar Azpilicueta and Pedro he wants the pair to stay at Stamford Bridge next season, according to AS. The Italian boss took advantage of the European Championship clash between his side and Spain to hold a private conversation with the duo, revealing they are part of his future plans.
Last month Spanish football expert Guillem Balague reported in AS that Barcelona, Athletic Bilbao, Paris Saint-Germain, Bayern Munich and Manchester United were all monitoring Azpilicueta's situation, with Chelsea expected to ask around €18m (£15m, $20m) for the player's signature.
Balague said the Catalans see the Chelsea full-back as an alternative signing to Hector Bellerin, after the reigning La Liga champions earmarked the Arsenal star as their preferred choice to fill the gap left by the departure of Dani Alves to Juventus.
Azpilicueta himself admitted, while with the Spain camp, that he was aware of the rumours.
"It's summer and there are rumours. It is normal but I am not thinking about it now," he said to El Confidencial when asked about Barcelona's interest.
Pushed further regarding a potential move to Athletic Bilbao, he said: "We know how the market is restricted for Athletic [as they only can sign players from the Basque Country]. They continue their philosophy and since I was a kid I have always lived it because I've had colleagues who went to Bilbao to play. I have been away from Spain for six years, four of those at Chelsea, and I am enjoying football. In the future you never know what can happen but it's good to have teams interested in you because it means you're doing well. But I do not give much importance [to those rumours]."
Pedro, meanwhile, recently admitted he would love to return to Barcelona, but added that a move from Stamford Bridge in the current window is "almost unlikely" to happen.
AS now claims Conte has told the pair they are going nowhere, in a conversation he had with them following Italy's dominant 2-0 win over Spain on 27 June.

A picture of the trio following the game emerged on social media, although Cesc Fabregas, who also played in the game, was not present in the discussion.
Spanish media says the conversation was "short but clear", with the Italian conforming Azpilicueta and Pedro form part of his plans for Chelsea.
Azpilicueta still has three seasons left in his contract after signing a five-year deal in September 2014. Meanwhile, on 1 July Chelsea gave a big hint that Pedro will stay by revealing he will wear the number 11 shirt next season, instead of the 17 he had in his debut Premier League campaign.