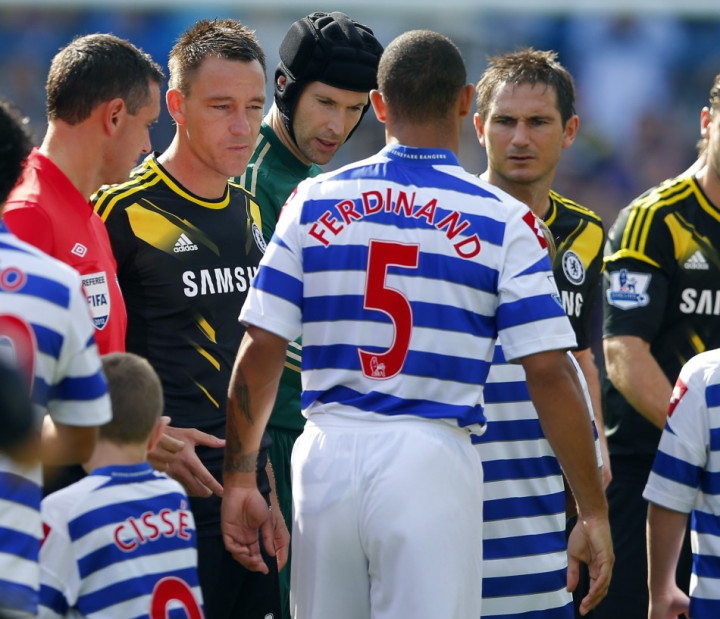 QPR defender Anton Ferdinand and former Manchester United midfielder Park Ji Sung both refused to shake Chelsea captain John Terry's hands during the Blues' goalless draw against the Hoops on 15 September.
The 31-year-old England international was accused of directing racist comments at Ferdinand (the younger brother of Manchester United centre back Rio Ferdinand) during the league game between the two teams last October. Terry faced criminal charges but was cleared earlier this year. However, he still faces an FA hearing, scheduled for 24 September.
Ferdinand's decision was expected, but it was a surprise when QPR captain Park Ji Sung also refused to shake Terry's hand. The 31-year-old South Korean transferred to Loftus Road from Old Trafford earlier this year and is understood to be a good friend of both Rio Ferdinand and Patrice Evra (who was found to have been similarly insulted by Liverpool striker Luis Suarez).
QPR boss Mark Hughes said he had not been informed Park would refuse Terry's hand.
"The players had a discussion and I was made aware that some of them were prepared to shake and some weren't. I didn't know which individuals were involved. It was a personal choice of each of them," Goal.com quoted Hughes as saying.
Chelsea boss Roberto Di Matteo, who did not look very happy with his side's performance after the match, said his team tried their best to resolve the matter.
"We offered (to shake hands) and have done our part. If other people feel differently, that's their problem. Our players didn't have a problem with the focus. They were very concentrated and on another day we could have scored. We handled it very well, our players were very professional," Agence France-Presse (AFP) quoted Di Matteo as saying.
Meanwhile, Di Matteo expects Terry to be fit for the Blues' Champions League game against Italian champions Juventus. The Chelsea captain seemed to be holding his knee in discomfort after the match.
"We have to assess the players but it doesn't look like we have any major problems. It was a tough battle for everybody, there were plenty of knocks. We'll assess it tomorrow morning and then shift our attention to Wednesday," he said.