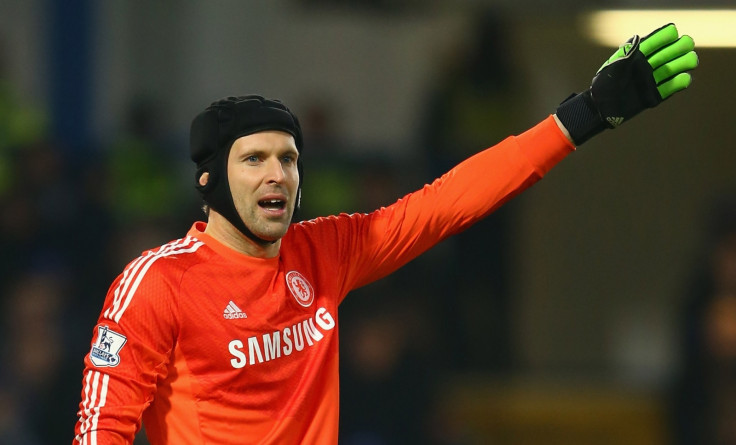 Chelsea goalkeeper Petr Cech says the Blues are set to start a new golden era after Jose Mourinho's side took another step towards winning the Premier League title with a 3-1 victory at Leicester City on 29 April.
Following a disappointing campaign last season, where the club failed to win any silverware in Mourinho's return to west London, the Blues are poised to win the double.
Having clinched the League Cup against Tottenham Hotspur in March, Chelsea are three points away from the Premier League crown with four games remaining, meaning a victory over Crystal Palace on 3 May will see them win the title at home.
And even though Cech's future at the club is unclear, he has predicted this successful campaign is just the beginning for a squad that has a number of promising prospects and established youths, including 24-year-old Premier League player of the year Eden Hazard.
"The last title was in 2010 so it's been a long time. That's why this one is hopefully the start of a new era with another generation of players," he said, according to Standard Sport.
"Obviously there is only me, JT and Didier who have been here for the last decade, so you can say this is a new generation of Chelsea. Hopefully, we will confirm the title on Sunday and then this team will continue to win things."
Cech has seen his playing time limited this season due to the arrival of Thibaut Courtois. However, his experience between the sticks was crucial in the League Cup final victory over Spurs, while he was in goal in the recent game against Leicester, with veterans Didier Drogba and John Terry scoring one goal each.
He added: "You can be a great player but in the moments where you play difficult games under pressure, to be a champion gives you another extra step, another dimension.
"We can see that in the difficult moments this season, this team have a lot of experience to overcome the difficult moments, it's why we're in the position we are. Some of the new players that came in obviously had experience of winning the title elsewhere, which is also important. That's why everything clicked quite quickly."