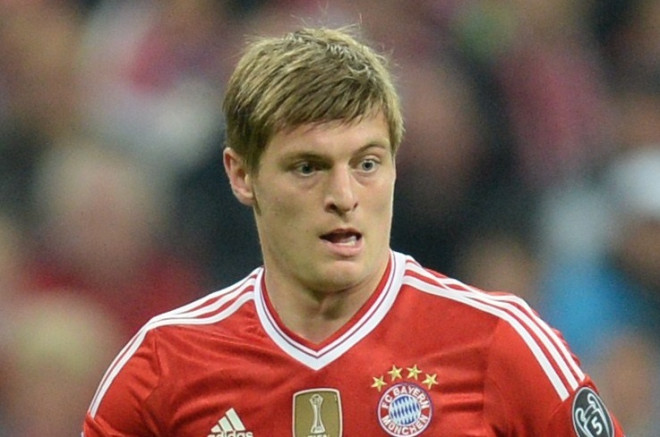 Chelsea are preparing a move for Bayern Munich midfielder Toni Kroos in the summer, according to the Metro.
Jose Mourinho has eyed the midfielder as a replacement for Oscar, who fell out of favour with the manager in the second half of the season and the Portuguese man is willing to sell the midfielder to make room for the German.
Kroos was actively pursued by Manchester United since January but new manager Louis van Gaal has reportedly snubbed the opportunity to sign the player, allowing Chelsea to make the move.
Kroos is in his last year of a contract at Bayern and is yet to agree an extension on his contract with the Bavarians owing to a dispute about his wages.
Chelsea is looking to swoop in during the opportune moment and make an offer to convince Kroos to transfer to Stamford Bridge and challenge for major honours.
Bayern are unlikely to let the midfielder leave on a free next season and are expected to sell him for a fee in the range of £25m in the summer if they fail to reach an agreement.
The 24-year-old wants to elevate himself into the same echelon as the likes of Bastian Schweinstieger, Philipp Lahm and Frank Ribery but Pep Guardiola is having none of his this and is willing to let him leave than break his wage structure.
However, Kroos recently revealed in an interview that he is willing to see off his contract and has quashed any rumours about him moving to the Premier League.
"I am expecting to play for Bayern Munich next season," Kroos told the BILD.
"There was a lot of speculation, but Manchester is and was not an issue. At this point in time I am fully focused on preparations for the 2014 FIFA World Cup.
"I know that I have to accept and respect the recent statements of the authorities at Bayern Munich.
"Still, honestly, I did not expect anything else in that respect after I had turned down the offer of a new contract I received from the club at the start of the current calendar year," he added.