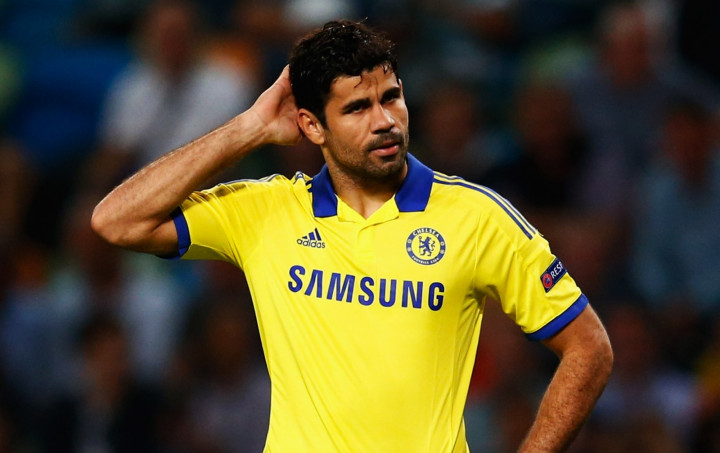 Diego Costa has claimed he doesn't want a war between Chelsea boss Jose Mourinho and Spanish manager Vicente Del Bosque, but said he hopes to be named for his country's double header against Luxembourg and Slovakia next week despite injury concerns.
Mourinho has insisted a number of times that the Spanish striker is unable to play more than once within a seven day period after he suffered a recurrence from last season's hamstring injury during international duty last month.
But the Portuguese boss himself decided to risk him during the Champions League victory over Sporting Lisbon on Tuesday, and is set to use him again for the third match in a week for the Premier League visit of Arsenal this weekend.
Mourinho explained his decision before the game, claiming that as he expected Del Bosque to select him for Spain there was no point leaving him out for two crucial Chelsea games.
"Because I have the feeling that the [Spain] national team is not going to think about it [the injury], I am not going to think about it too. I think it makes no sense to try and resolve a situation when in one week I think he is back to the national team."
Costa has now clarified the situation, claiming he is feeling better and wants to be in the Spain's squad.
"I hope I am okay to go with Spain. If I played 90 minutes it is clear that I am fine, I am feeling better all the time, and it is the boss's [Del Bosque's] decision," he said, according to AS.
When questioned whether he feared a war between Mourinho and Del Bosque, he added: "I do not believe that could happen. I have already had enough with the issue about Brazil. Now I must stay relaxed to be able to work and do things well, with the national team too."
The Spanish international insists he is now 100% fit.
"During the week I am working in an intensive way with the physios, because I have some issues from a while back," he said.