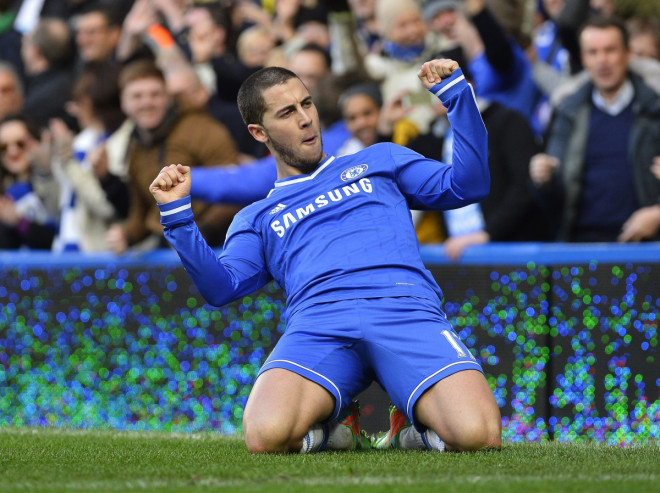 Chelsea star Eden Hazard has revealed that he would like to face Real Madrid or Barcelona in the Champions League quarter-final, as he is looking forward to play against Lionel Messi and Cristiano Ronaldo in order to test himself.
After beating Galatasaray in the last 16, Chelsea won a spot in the Friday quarter-final draw.
The two Spanish giants alongside Bayern Munich are apparently the three sides everyone want to avoid.
However, asked who he would like in Friday's draw, Hazard said: "For me, for a young player, it's very important to test myself against Ronaldo or Messi."
"Just to be on the pitch with them would be good and I would try to do well.It's an aspiration for me to be as good as Ronaldo and Messi. I watch a lot of games they play in and I try to be on the same level," Hazard was quoted by The Telegraph.
"Before I knew I was a good player, but not one of the better players in the world. Now I realise that I can compete with Messi and Ronaldo in the near future, if I put in some more effort. I don't know if I will ever reach their level. It'll be hard, but I accept the challenge," he added.
After earlier this season, manager Jose Mourinho claimed that Hazard is the best young player in the world he has been appointed as the player to follow Messi's and Ronaldo's footsteps.
Nevertheless, Hazard believes that he still has to improve to reach that levels, as while Messi has scored eight goals and Roanaldo 13 in this Champions League the Beligium has just netted one.
"I want to score more because sometimes I play good, like against Galatasaray, but I don't score. To be the best player in the world, I have to score more.
"I think it's just in my head. I have to shoot more sometimes. I can make the pass, I can shoot and sometimes I make the pass, but I work on that," he said.
After winning the Europe League in his debut season at Stamford Brige, the Belgium will face a new challenge this campaign in the Champions League quarter-final.
"A big club wants every year to win the Champions League. Last year was Europa League and this season we want these [big] trophies. This is the first time I have reached this level in the Champions League. I'm happy. I enjoy this moment," Hazard said.
"The Champions League is maybe the biggest tournament in the world, so, yes, it is difficult, but it is good to be part of the late stages in my second season at Chelsea. We'll see where we end up in the next round. We want to get as far as possible. There are better teams than us in the last eight, but we'll try to make the best out of it," he said.