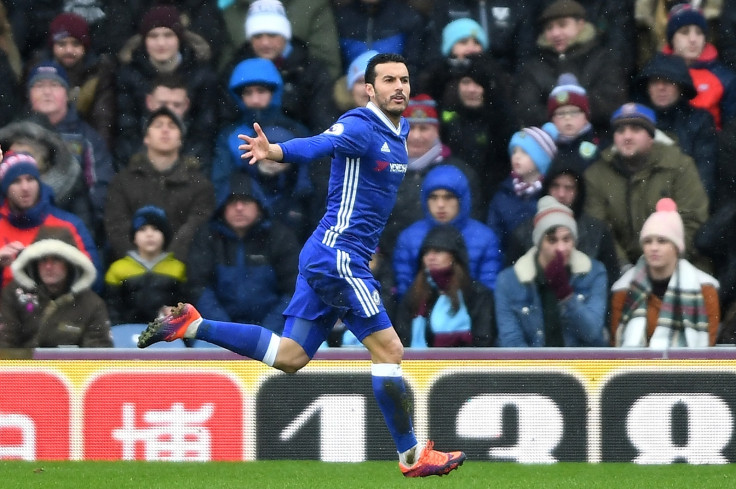 Chelsea star Pedro Rodriguez is expected to return to the Spain national squad for the upcoming games with Israel (24 March) and France (28 March). Marca adds that the Premier League leaders could be the club with the most representatives in Julen Lopetegui's squad – alongside Barcelona and Real Madrid – as Marcos Alonso could well be in line to receive his first call-up.
Pedro, 29, was a fixture for former manager Vicente Del Bosque but is yet to play a single game since Lopetegui took over.
The one-time Barcelona star was included in Del Bosque's squad for the European Championship in June 2016, but came under fire during the tournament after voicing his disappointment over a lack of playing time.
"I had other expectations when I arrived here and it hasn't been what I wanted," the Chelsea star said. "To take this role [as a substitute] is difficult for me, so If I don't have continuity then I don't think is worth it to keep coming to [the national team] just to be part of the group."
Pedro was eventually forced to apologise for his comments at a press conference after fans and journalists had demanded Del Bosque send him home.
"If I need to rectify my position, I apologise to fans if they were offended. But I do not understand how it has set all this off," Pedro explained at the time. "At no moment have I said I do not want to be here, that I wanted to go, or that I was uncomfortable here. I prefer to be on the pitch than to not play. But I am very happy to be here and I will keep working and fighting to help the group."
Pedro featured in the European Championship elimination to Italy, with some suggesting the game against the Azzurri could have been his last appearance for Spain. Lopetegui overlooked the Chelsea star in his first three squads, called up in September, October and November.
However, Marca says Lopetegui is expected end the exile on Friday (17 March) when he announces his squad for the coming internationals with Israel and France.
The Spanish publication says Lopetegui's camp has already contacted Pedro in recent days and the winger is expected to return to the squad following his sensational campaign with Chelsea, having scored 11 goals and provided 10 assists in 30 appearances for the Premier League leaders.
Diego Costa and Cesar Azpilicueta are also expected to keep their places in Lopetegui's plans as the Chelsea duo have been regular for the new manager since the summer. Marca suggests Marcos Alonso could also join them with the Blues left-back impressing for Antonio Conte's side since his arrival from Fiorentina.
Marca adds that Cesc Fabregas is not ruled out completely either despite the former Barcelona star having not played a game for Spain since the 2016 European Championship.
Chelsea may thus be the team with the most representatives in the squad, alongside Barcelona and Real Madrid. The likes of Gerard Pique, Sergio Busquets, Andres Iniesta, Sergio Ramos, Nacho, Isco and Alvaro Morata should all keep their places.