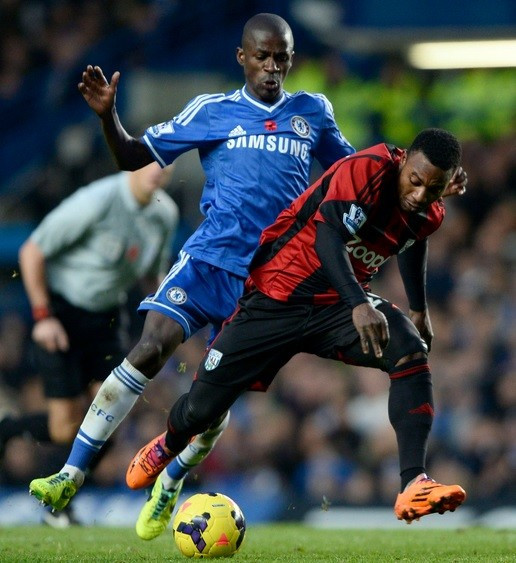 Chelsea midfielder Ramires has expressed delight for playing "without any pain" after Jose Mourinho hailed his importance for the team ahead of the last and crucial part of the campaign.
Ramires was regarded as crucial by his Portuguese boss last season, but the 27-year-old midfielder has spent much of the first part of the current campaign sidelined by various injuries missing a total of 10 Premier League games.
The Brazilian international returned to action earlier in January for the 3-0 win over Watford in the FA Cup third round and has since, little by little, regained his best form.
Even though Nemanja Matic and Cesc Fabregas have excelled in the middle of the park during his absence, Mourinho recently welcomed Ramires's return to full fitness.
"The best Ramires is back and the best Ramires played against Liverpool, Manchester City and Aston Villa,' Mourinho said after the victory over the Villans.
Ramires has started the last three Premier League games against City, Villa and Everton and as well the league cup semi-final with Liverpool and the Champions League first leg last 16 against PSG, giving Mourinho another choice in the middle – with Fabregas in the number 10 role – or even covering the Spaniard's recent absences.
Ramires has welcomed the trust bestowed upon him by Mourinho adding he is still working hard to give that little bit extra.
"For three months I had a problem and obviously I had a bad moment when I got injured against them (Manchester City) but the home match (against them) was a happy moment because I was well after the game," Ramires said.
"I am working hard to be at my best and I am playing without any pain which is fantastic. I am trying to do my best to make sure I get that little bit extra."
Meanwhile the Brazilian admitted that during the first part of the season he pushed himself to play some games, including a Premier League visit to Anfield in November.
Speaking about that game, he said: "Jose came to speak to me and said I was going to play and then I started planning my week with him and the medical team to be prepared.
"I knew the weekend would come and I still would not be 100 per cent but that is my style. If you put me on to play 10 or 15 minutes I will do my best," he said.
"I played almost 60 minutes and I had pain but I pushed myself to do my best. We won the game and obviously it wasn't just because of me, it was the whole team performance, but I was happy I could help. For me not to help, I have to be in a very bad situation with a lot of pain."