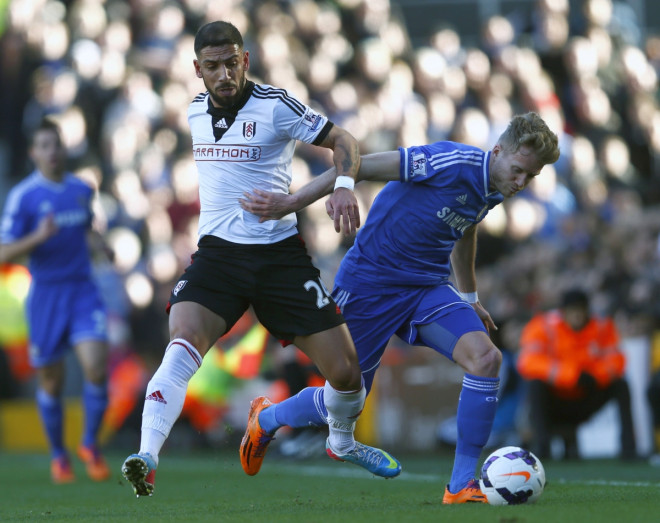 Chelsea playmaker Andre Schurrle has revealed that he has been working hard to be more aggressive after manager Jose Mourinho asked him to change his style in order to get more playing time.
The German forward joined Mourinho's side last summer after the Blues paid £18m to Bayer Leverkusen to secure his services, but he had been on Chelsea's radar long before the Portuguese boss returned to west London.
With Eden Hazard, Oscar and William all ahead of him in the pecking order, the German international has started just eight Premier League games this season. However, his luck has changed recently after he started in both the Champions League draw against Galatasaray and in the Premier League derby with Fulham, when he led his team to a 3-1 victory after scoring a hat-trick in the second half.
In an interview with Chelsea official website, Schurrle reveals Mourinho's advice has been the key to his change in fortunes.
"We talked a lot, of course, and he told me I needed to change my game and my body. And that's what I've done over the last two months. I've really worked very hard to be aggressive, to be in a good shape with my body.
"I did a lot in the gym but I wanted to do this, I needed to do this. I wanted to change and I think I have. I want to play and I want to score goals for this great team and for these great fans. Now I'm ready to play more often," the German forward said.
The 23-year-old winger forged an impressive understanding with Hazard at Craven Cottage, who provided him the two first goals.
"When I play on the right wing and he (Hazard) plays on the left it's perfect because I know he can take on two or three people and beat them.
"When I start my run he already knows that I'm running and he has the quality to make the pass to me. That's what we did two times, he made two perfect passes, and the third from Fernando was very good. Eden a great player, everybody knows it, and he was brilliant," Schurrle added.
Before the Fulham derby, Schurrle, who has scored six goals since his summer move to Stamford Bridge, had not started a Premier League game since the Southampton game on New Year's Day.