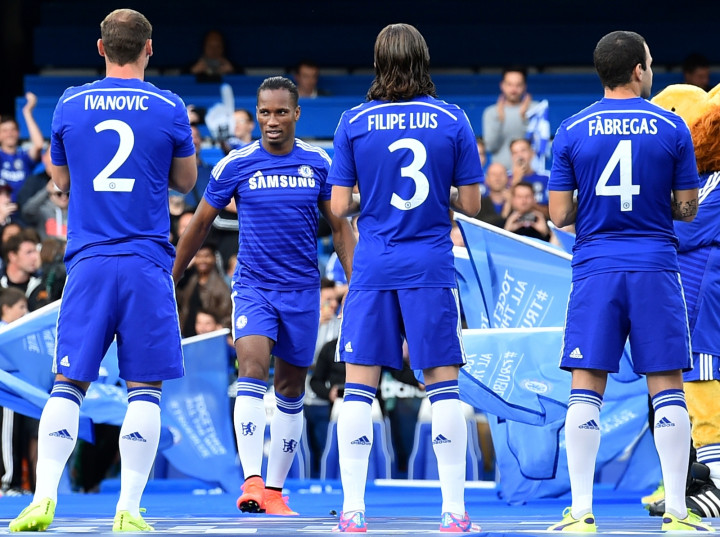 Chelsea manager Jose Mourinho is hopeful striker Didier Drogba will be fit for the Premier League season opener against Burnley on Monday despite missing the club's final pre-season friendly, against Real Sociedad at Stamford Bridge.
Drogba suffered a twisted ankle against Ferencvaros on Sunday and is a doubt for the first game of the season after missing the 2-0 win over the La Liga side on Tuesday night.
However, Mourinho is optimistic that Drogba will not be forced to delay his Chelsea return – two years after departing the club following the 2012 Champions League final.
"He's good," said Mourinho. "I don't want to say ready for Monday, but with the quality of our medical department and the mentality he has, I'm not saying it's impossible for him to recover for Monday."
The 36-year-old received a warm reception upon being unveiled to the Chelsea crowd before kick-off against Sociedad, and in his absence Diego Costa continued his fine pre-season form with a double to end the club's new season preparations with a win.
A further fitness boost for Chelsea came in the form of goalkeeper Thibaut Courtois who played 90 minutes for the first time during pre-season, having played for Belgium at the World Cup.
Courtois missed the friendlies against Fenerbahce, Besiktas and Ferencvaros but featured against Sociedad to put himself in contention for a first Chelsea start against Burnley next week ahead of Petr Cech.
"I played Thibaut for 90 minutes because he was injured and didn't play last weekend," Mourinho explained. "Petr played two matches in Turkey and the first half against Ferencvaros. Since he arrived Courtois has only played 45 minutes against Werder Bremen, he needs to play."
The victory was Chelsea's third in a row heading into the new campaign which they enter as favourites for the league title, and Mourinho admits his team start the season in good shape.
"The squad has improved for sure," he said. "This is the Premier League, every team tries to be better. Are we ready for that? Yes, but this is England. In some countries only two teams can win the league, sometimes only one, but here it's five or six.
"The only thing I can say is that I very much like the squad. The club were fantastic because they gave me the three targets I asked for. We have the squad we want to have, it's a squad for tomorrow, for next season and also with big possibilities for the next five-10 years."