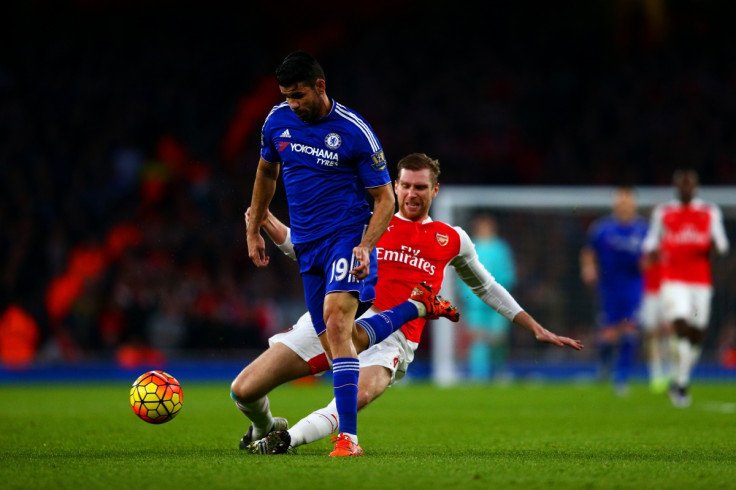 Chelsea striker Diego Costa has been branded a "serial cheat" by former Arsenal chairman Peter Hill-Wood. The 27-year-old Spain international was involved in fresh controversy during the Blues' 1-0 win against Arsenal at the Emirates Stadium on 24 January.
Hill-Wood was incensed by Costa's role in Per Mertesacker's dismissal during the game, which Chelsea won thanks to a goal from the striker. Mertesacker was given his marching orders after felling Costa, who was clean through on goal.
"He is a serial cheat and he gets away with it," Hill-Wood reflected, according to The Telegraph. "I think he deliberately ran in front of Mertesacker, who hardly touched him. Yet Costa rolls around as if his legs have been cut off. Once the red card's been shown, he's suddenly perfectly all right again.
"That's because there's absolutely nothing wrong with him. There certainly wasn't soon after when he scored that goal. Personally I think the referee should have sent him off for diving. It's very annoying because to me it is blatant."
The Chelsea striker was at the centre of controversy against Arsenal earlier in the season, which ultimately led to the sending off of defender Gabriel. In light of that incident, Hill-Wood thinks Arsenal manager Arsene Wenger was restrained in his post-match analysis of Costa's behaviour at the Emirates.
"Costa has got two players sent off in two games against our side. So he's clever," Wenger said of the Chelsea centre-forward.
"I thought Arsene was very restrained because he must have been furious. He gets criticised or penalised by the FA if he says too much," Hill-Wood explained.