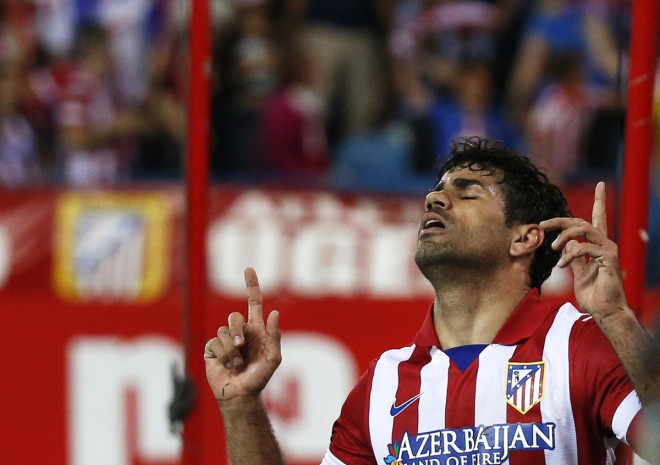 Chelsea have suffered a huge blow in their pursuit of Diego Costa after Atletico Madrid sporting director Jose Luis Perez Caminero revealed that they are already planning next season with the Spanish international striker in situ.
Reports in Spain claimed earlier this month that Costa had already agreed verbal personal terms with manager Jose Mourinho to join the Blues in the summer, with the West London club ready to trigger his £50m release clause to complete the deal.
However, Caminero has rubbished those rumours, claiming that they are likely to keep Costa in the squad.
"Last year we wanted to consolidate the group of players that we currently have, we renewed the contracts of pretty much all of them, including Diego Costa," Caminero was quoted as saying by AS.
"Our minds are set on keeping this group of players together and steadily bring in one or two more, who can reinforce what we're doing with our project. We want all our big players to stay and we're planning for next season with him."
Asked about the second leg of the Champions League semifinal against Chelsea, Caminero said: "Not conceding any goals in the first leg was positive.
"That's important and it gives us the opportunity to go to London, knowing that we have the tie in our own hands and that away from home we've had very good games, including a lot of clean sheets.
"For us, it will be good not to concede a goal and that a win or a scoring draw would put us through to the final."
Furthermore, he backs Mourinho's style even though Spanish reports have heavily criticised him for his defensive tactics at the Vicente Calderon.
"I wouldn't say it's ultra-defensive, it has a place in the modern game and with the class of players he has, they can adapt to whatever their manager sets them out to do on the pitch. Everyone makes their lineup choices and it's up to him what he does with his" Caminero said.
Costa himself has responded to the chants that Chelsea fans dedicated to him during the first leg at the Vicente Calderon, claiming that he is happy at Atletico.
"The truth is that I didn't understand anything. I heard my name and asked what they were saying. I can't say I paid much attention to it. I'm very happy where I am now."