Chelsea are considering a bid for Everton left back Leighton Baines, according to the Independent. The England international is a long-term target for Premier League leaders Manchester United. There is also interest in the player from Ligue 1 leaders Paris St Germain (PSG).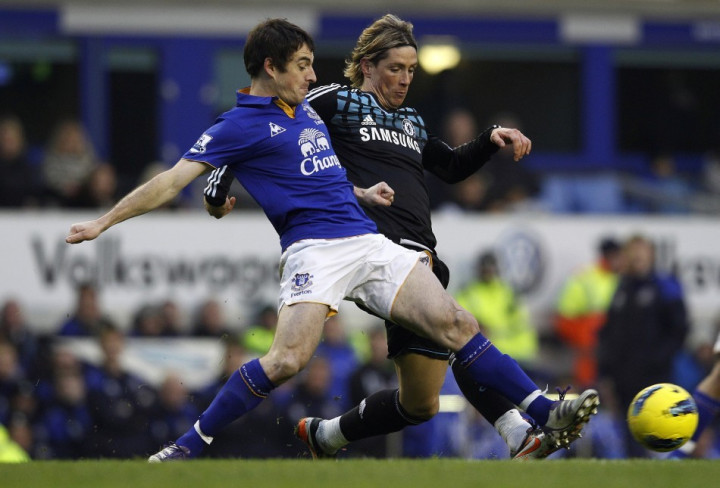 Toffees' boss David Moyes is unlikely to allow his star to leave Goodison Park mid-season, meaning a summer move, if there is to be one, is more likely. In any case, Moyes seems set to have a busy January fending off the Blues' interest in his players, after the Daily Mail reported Belgian midfielder Marouane Fellaini was a £30m target for Roman Abramovich.
Baines, 28, joined Everton in 2007 and his present contract runs through to 2015. And with a brilliant season so far, the £15m price tag placed on his head by Everton is beginning to look like a bargain, something Sir Alex Ferguson has probably realised. The Old Trafford club refused to pay the asking price during summer talks, offering instead a player/cash deal worth £11m, involving French left back Patrice Evra.
The Blues seem to have settled on Baines as a long-term replacement for 32 year old Ashley Cole; the England international is in the final year of his contract and has yet to sign a 12-month extension.
Finally, Baines' French suitors, PSG (led by former Chelsea coach Carlo Ancelotti) were linked with a move for Cole at the end of the season. However, The Sun speculates that should Baines become available, Ancelotti will no doubt be tempted to move for the younger defender.
Meanwhile, the subject of all this interest has denied looking for a move away from Goodison Park. In fact, Baines has verbally committed his long-term future to the Toffees and added the ambition was to bring European football back to Everton.
Unfortunately, the financial aspects of the situation make it more than likely both Baines and Fellaini will leave the club next summer, if not earlier. It is no secret Everton are unlikely to have significant transfer funds for the January window and selling players to raise money seems the only way out, at least for now. However, speaking to the Liverpool Daily Post, the Scot ruled out raising funds by selling star players, while also admitting it was unlikely the squad could be significantly strengthened in the present circumstances.