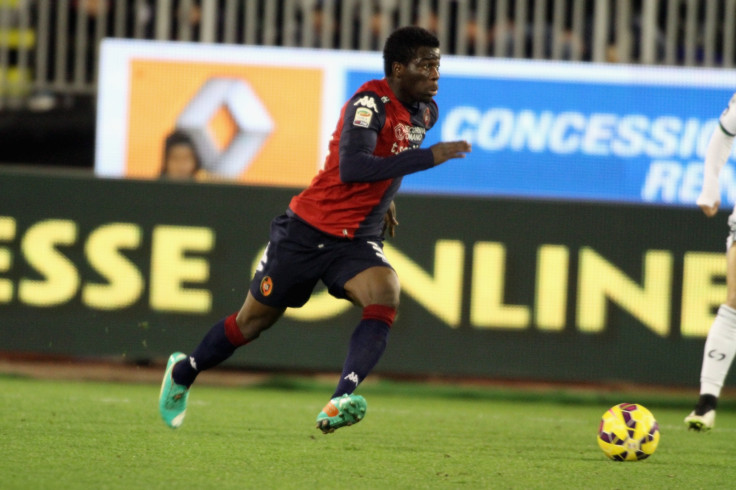 Chelsea are the latest club to show interest in Cagliari starlet Godfred Donsah, but the Serie A side are hopeful the player will remain where he is. According to media reports, scouts from Manchester City and Arsenal made the trip to watch over the teenager in February after impressing during his first campaign in Italy's top flight.
Cagliari have already rejected an offer of €6m (£4.1m, $6.5m) from an unnamed club, his agent Olivier Arthur recently told Tutto Mercato Web, before adding that Juventus and Sampdoria are also interested in the 19 year old.
But club president Tommaso Guilini says the Ghanaian youngster is likely to be offered a new contract in an effort to keep him at the Stadio Sant'Elia.
"We had a chat a few weeks ago with Juventus and Chelsea, but I am stunned by all these rumours around him. The lad needs to grow up with us," Guilini told a press conference.
"We have many other players on low wages and their contracts will be renewed at the right time, including Donsah's.
"We received a request to attend a meeting via a lawyer, but I am accustomed to doing things a different way. As soon as the right moment comes, we will be happy to renew his contract."
It was also Cagliari president Guilini who confirmed visits from Arsenal and City scouts in February 2015. He was quoted as saying by the Daily Express: ""Manchester City are interested, but Arsenal scouts were at the game against Inter to watch him."
Chelsea have made four confirmed signings this summer in Brazilian youngster Nathan, goalkeeper Asmir Begovic, Croatian youngster Danilo Pantic and ex-Manchester United loanee Radamel Falcao.
The Premier League champions are expected to bring in another left-back, while they would also appear to have a good chance of securing a work permit for 19-year-old attacking midfielder Kenedy, who has been training with the club this summer.