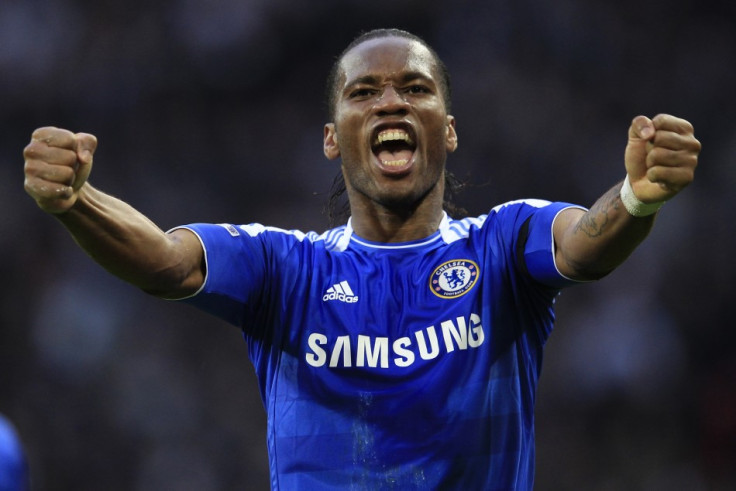 Ivorian striker Didier Drogba, who has confirmed his departure from Chelsea this summer, is reportedly considering making a move to Real Madrid despite the 34-year-old being heavily linked to joining his former Blues teammate Nicholas Anelka in China, according to a Daily Mail report.
Drogba, who undoubtedly played a major role in Chelsea's Cup success this season, has reportedly had talks with Real Madrid over a two-year deal, which was refused by the Blues.
Real Madrid boss Jose Mourinho, who had brought the Ivorian legend to Chelsea in 2004, was reportedly interested in bringing Drogba to Madrid last summer. However, due to some disagreement in the transfer fee for him, the former Blues boss had been unable to complete the deal.
Now with Drogba leaving Chelsea as a free agent the 49-year-old boss will easily be able to lure him to join the Spanish champions.
However, the Ivory Coast international, who is also wanted by clubs in Italy, Germany and Russia, might be tempted to take up the deal in China especially due to the generous wages offered by Shanghai Shenhua.
Still, Drogba seems to be in a dilemma after there were talks that Argentinean legend Sergio Batista would be replacing interim boss/player Nicolas Anelka. Also, the prospect of winning another Champions League trophy with Real Madrid will also be an important contributing factor in determining Drogba's final decision.
Meanwhile, apart from getting Drogba, Mourinho is reportedly trying to lure in Chelsea defender Branislav Ivanovic to Real Madrid, according to a ESPN report.
The 28-year-old Serbian, in spite of being aware of Real Madrid's interest, claims that he is very happy at Stamford Bridge.
Mourinho, who is looking to strengthen his defence this summer is reportedly looking for a consistent performer and Ivanovic seems to be the perfect player for him.
"I know there is an interest from Madrid, who are following me. But it's not the time to talk about it now," The Sun quoted Ivanovic as saying.
"I'm focused on the national team at the moment and I'm really happy at Chelsea and in London. I just won the Champions League a week ago and changing teams is not in my thoughts right now," said Ivanovic, according to Sky Sports.