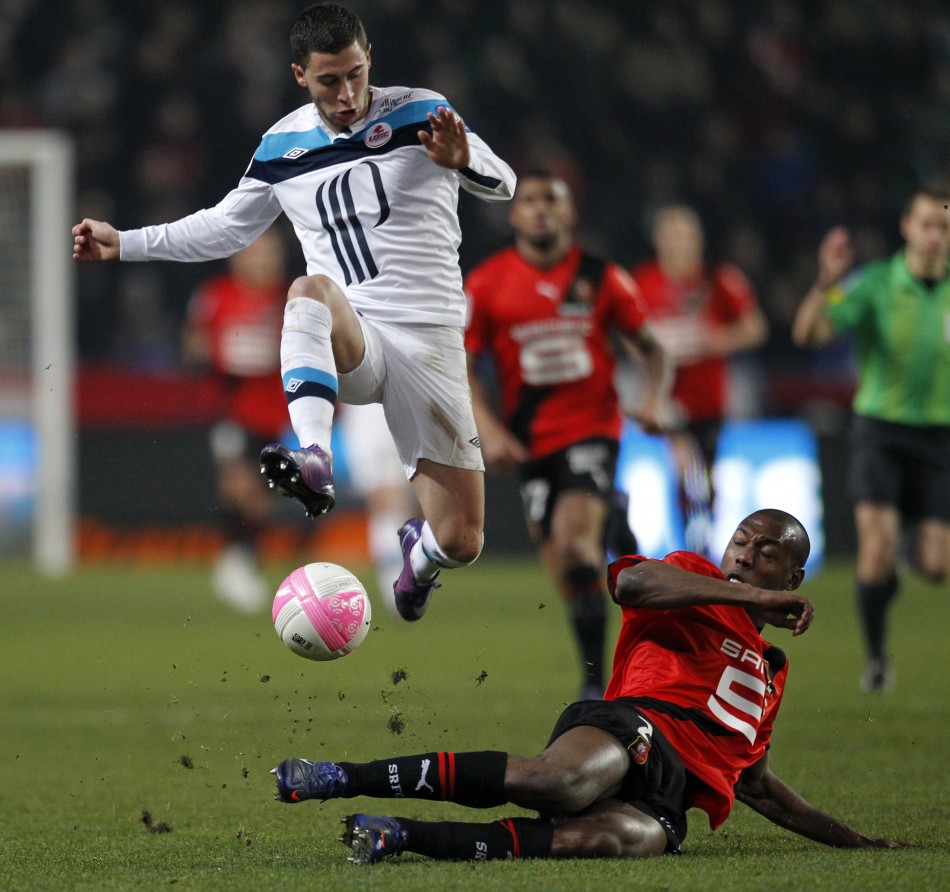 The Eden Hazard transfer saga is fast developing into one of the most protracted in recent history, as the Belgian playmaker continues to dither and play coy over his future. The latest news seems to be that the Lille player could join European Champions Chelsea in the summer.
Hazard was heavily linked with a move to Manchester City and was expected to make an announcement to the press after Lille's match against Nancy on Sunday. However, Chelsea's Champions League victory on Saturday night, which also ensured the west London club will be a part of the same competition next season, has caused the player to "hesitate".
"As long as I've not put pen to paper, I won't say where I'm going. Chelsea makes you hesitate. They've won the Champions League and they'll be in it next season. For now nothing's been decided but it will be soon. Now I want to join up with the national team and then go on holiday. It'll do me a lot of good," the Guardian quoted the 21 year old as saying.
Hazard scored a hat-trick against Nancy to help Lille win 4-1 in what was his final game for the French club and the midfielder has already admitted his agent has held talks with "Manchester" and Chelsea.
"It is possible that Chelsea's arrival at the negotiation table will delay things, as nothing is done. My agent has met with Manchester and with Chelsea. They both give good offers and are both great clubs. I don't know. It's not been finalised yet," the player added.
However, reports from France suggests Hazard has chosen Manchester United ahead of their Premier League rivals City and Chelsea. A story by Mercato365 claims the Red Devils have won the race for the Lille man's signature. Whatever happens, one thing is for sure. City are now no longer favourites to snap up Hazard as expected. Roberto Mancini's side are just one of several European giants chasing the Belgium international.
Meanwhile, Lille manager Rudi Garcia praised Hazard after he netted the hat-trick and added more fuel to the fire by saying his star player had changed his mind regarding his initial transfer destination.
"It was a lovely evening, we had a great send-off party for Eden. He still doesn't know where he's going. In the last few weeks he's changed his mind, I believe," ESPN quoted Garcia as saying.
"Things will be great for him. He's going to be a great player. The best player in the league is leaving it. Eden is a unique player, a guy who's capable of rising to challenges. He will remain one of the best players in LOSC's history," the Lille manager added.
Two weeks back, when Hazard stated he would definitely be wearing blue next season, it was widely believed he was set to join City. However, now the tables have turned and it could be the blue of Chelsea that wins this battle. However, Garcia's revelation that Hazard has changed his mind in the last few weeks means that a move to United cannot be ruled out.
Hazard, who has been crowned Ligue 1 Player of the Year for the second consecutive season, has been in sublime form this season with 20 goals and 16 assists in 38 league appearances.