Brazilian striker Hulk's agent has admitted concrete interest from two Premier League clubs. The 26-year-old left FC Porto to join Russian side Zenit St Petersburg last summer but has struggled to re-create the form that saw him score 39 goals in 47 Primeira Liga starts with Portuguese club.
Hulk was strongly linked to London rivals Chelsea before his move to Zenit, with the Guardian reporting, in July, that a £38m deal had been "agreed". The news came on the back of Belgian international Eden Hazard's £32m move to Stamford Bridge.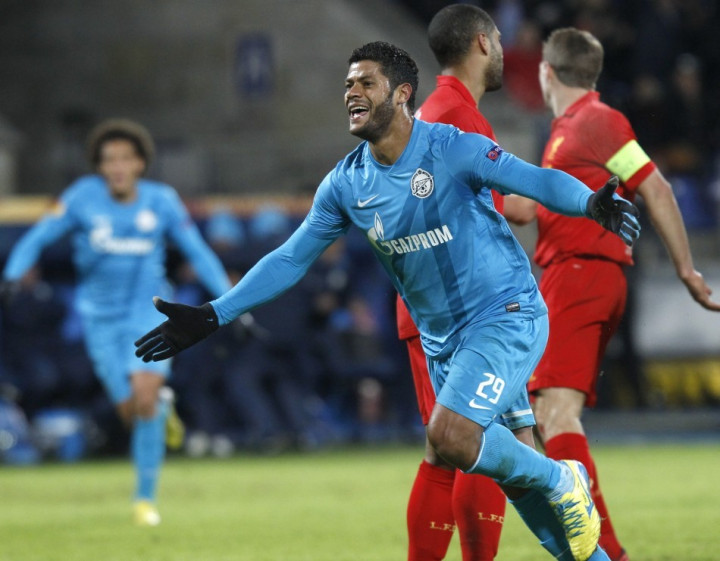 The striker's proposed move to west London fell through after Zenit improved on the Blues' final offer. Hulk's contract had a reported £48m release clause and the Russians offered £39.5m, according to the Mail Online.
Now, however, with former Porto and Chelsea boss José Mourinho widely expected to return, the Metro believes a second approach for Hulk is being mooted. And Teodoro Fonseca, the player's agent, has confirmed that interest, although he refused to name the clubs involved.
Fonseca told Portuguese source Ojogo: "There are two great teams of the Premier League to have made their interest known. It is normal that such news would arise because it was with Andre Villas-Boas and Porto where Hulk had his best time."
The mention about AVB raises the possibility that Tottenham may have an interest in the player. The former Porto manager is in the market for a striker, given he expects to lose Togo international Emmanuel Adebayor in the summer.
In addition to Spurs, the Express has linked Monaco with a £40m summer move. Fonseca, however, has stressed that no deal has been agreed with newly promoted Ligue 1 side AS Monaco. He explained: "I have never made such statements [about Monaco], I have not spoken to anyone from France."
In the final analysis, a move for Hulk will depend as much on offering Zenit a sizeable transfer fee as it will on matching the player's wages, something AVB has already admitted may be difficult for White Hart Lane to do.