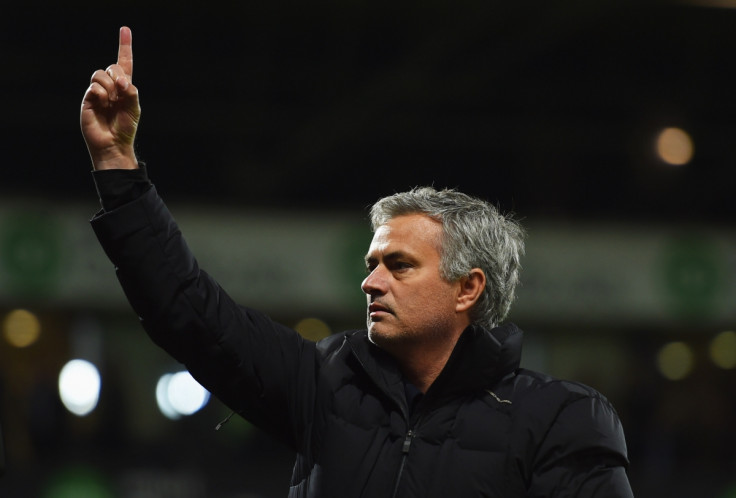 Chelsea manager Jose Mourinho says he knows "which players are possible and which are impossible" when it comes to a move to Stamford Bridge during the January transfer window but insists he will not ask the board for reinforcements. The Blues are 15th in the Premier League but the Portuguese boss is confident he can turnaround the situation with his current squad.
Mourinho bolstered his Premier League and Capital One Cup-winning squad during the summer transfer window with Pedro Rodriguez, Abdul Baba Rahman, Asmir Begovic, Radamel Falcao, Kenedy and Papy Djilobodji. However, he failed to sign both a major name to lead the team and a long-term replacement for John Terry amid speculations over the likes of Paul Pogba, Antoine Griezmann, John Stones and Marquinhos.
Recent reports claimed that following the poor start to the season, Mourinho would renew his efforts to sign a centre-back and a striker, who would compete with Diego Costa for the number nine role, in the coming transfer window.
But speaking ahead of the Premier League trip to Tottenham Hotspur on 29 November, he said, as quoted by the club's website: "These are [media] stories that start on 1 September when the market closes, and stories that will be more and more when 1 January is getting closer.
"I know which players are possible and which are impossible but I say what I said last week which is true, I will not ask the board of directors for players. I will try do my job the best I can and try to get results with the players we have."
The Blues have a busy fixture ahead before the transfer window reopens in January 2016, with a key Champions League game against Porto and Premier League encounters against Tottenham, Bournemouth, Leicester City, Sunderland, Watford and Manchester United.
"We are in November and we are all focused on doing our job the best we can," Mourinho said. "We are not speaking about players and about spending. We are just focusing on what we can do now which is to try to get the maximum points possible, try to be in a position where we can smell the top part of the league and believe in the second part of the season we will be able to reach the top positions."