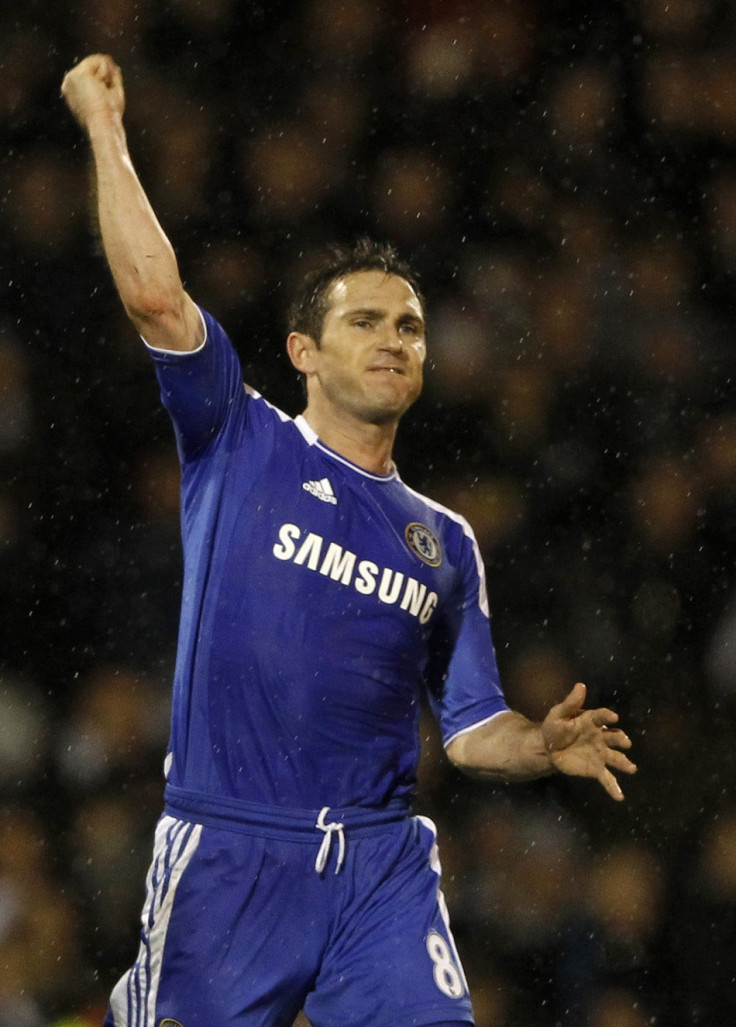 European champions Chelsea could be set to lose another high-profile veteran from Stamford Bridge, after the departure of iconic Ivorian striker Didier Drogba. The powerful African centre forward, who was for long the focal point of the Blues' forward line and whose goals (particularly in cup finals) for the club meant he remained, until the very last, a highly valued player, recently confirmed a free transfer to Chinese club Shanghai Shenhua.
The next senior player to be linked with a move away from the club is English midfielder Frank Lampard, whose association with the club is perhaps even stronger than Drogba's. Lampard started his professional career with West Ham United before transferring to Chelsea in 2001, for £11mn. Since then the midfielder has made (according to statistics on Chelsea's Web site) over 500 appearances for the club and has scored 186 goals. Lampard's contributions to the club, goals aside, has also been to act as the driving force for the side; he set a Premier League record of 164 consecutive appearances, between his debut on 13 October, 2001 and 28 December, 2005. In his time at Stamford Bridge, Lampard has won the Champions League, three Premier League titles, four FA Cups and two League Cups in whatis arguably the club's most successful era.
LA Galaxy First Contact
There was confirmed interest in the 34 year old former West Ham youth product, back in January, from US Major League Soccer (MLS) side Los Angeles Galaxy but although the American side expressed interest, no official contact was established between the two clubs. At the time, former Manchester United and Real Madrid star David Beckham had just signed a contract extension with the club; that meant the MLS side had a full complement of Designated Players (under MLS rules up to three players can be exempted from the league-wide salary cap) - Beckham, former Tottenham striker Robbie Keane and American international Landon Donovan. The club were therefore unable to consider a move for Lampard. Nevertheless, club owner Tim Leiweke confirmed Lampard was on their list of transfer targets.
"I'm a fan of Frank's, I think he's a great player. When I think of Chelsea I think of Frank Lampard," Leiweke was quoted as saying in an ESPN report and, when asked if Lampard could be persuaded to come to Los Angeles, he added "You should ask him that. It took us two years to get David to come here the first time. We're working on the next DP and we'll continue to work on the next DP. There are half a dozen guys we have a good relationship with and we'll see how that goes. But first we've got to have a spot, and at the moment we don't have a spot. [But] I'm sure a big fan of his."
Lampard, then, was reportedly deeply unhappy at Stamford Bridge following disagreements with then manager Andre Villas-Boas. The Portuguese tactician, who is now rumoured to be named as the next Tottenham Hotspur boss, was ambivalent about Lampard's status within the team.
It now appears that LA Galaxy is back for Lampard. The Daily Mail reports the Americans are willing to offer a wage package that will better Lampard's already substantial £130,000 per week salary, as they look to add another star to their ranks. Incidentally, if Lampard does move, the report continues, he will also lose a hefty loyalty bonus; he has only one year left on his contract.
Why LA Galaxy Could Pull This Off
There are a few reasons why Leiweke will be confident of adding a Beckham-like feather to his cap. The first is that with the fast approaching deadline for clubs to lower wage bills, in accordance with UEFA's Financial Fair Play (FFP) regulations, the Blues would be open to the idea of cutting Lampard's substantial package from their books. Although the idea of losing so iconic and valuable a player will not be easy to take, the fact that he is 34 years old will help soften the blow.
In addition, Lampard has, on occasion, admitted he may no longer always be first choice at Stamford Bridge and although he played a crucial role in turning the club's fortunes around last season, Roberto Di Matteo (now made permanent manager) will be looking to revamp the squad up and plan for the future.
Will He Go?
This is a tough call. As with most one club-players (AC Milan legend Paolo Maldini, Real Madrid icon Raul Gonzalez Blanco and Lampard's team mate John Terry come to mind), the idea of leaving what has essentially become your very identity and home is a difficult one. Some, like Raul, do so and do so successfully. Some others, like Maldini, prefer not to. Either way, Lampard has a tough choice. If he stays, then, as he said, he will have to accept a bench role and look on as new signings Eden Hazard and Marko Marin lead Chelsea into a new era... or he may chose to retire from the club now, certainly at the peak of all the success he has enjoyed and the legend he has created, to establish a new one, much as Beckham has done in Los Angeles.