Atletico Madrid star striker Radamel Falcao has expressed a desire to play in the Premier League, after reports emerged linking the Colombian with a £48m January transfer to Chelsea. The player's father, Radamel, has been quoted as saying his son would probably join a Premier League club before the end of the winter transfer period.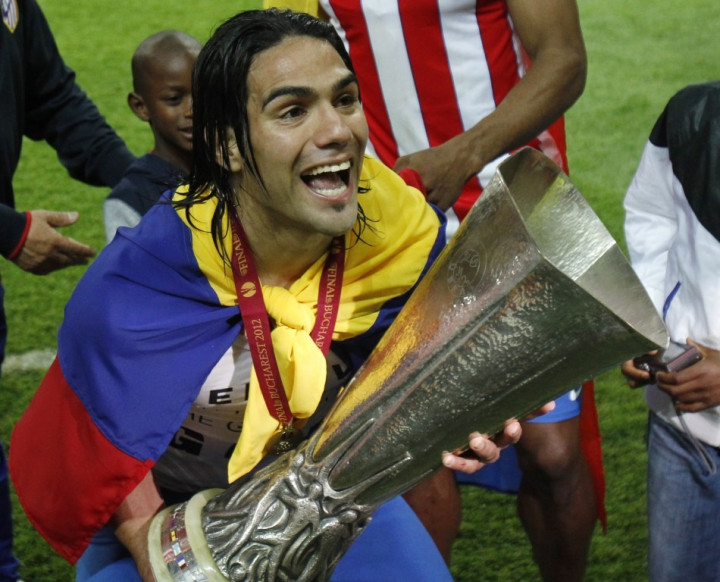 "Falcao has always wanted to play in the Premier League. There are three teams interested - Manchester City, Chelsea and a Russian team. Ever since he was a boy he has loved Chelsea and has always thought it would be an honour to play for a big Premier League team," the Daily Mail quotes Radamel as saying.
However, the player's father stopped short of confirming a pre-contract agreement with the Blues, preferring instead to focus on the sum of (approximately) £45m, which is the value of Falcao's release clause in his Atletico Madrid contract.
The sum involved may be vast but the Blues are no strangers to spending big in signing players. The £50m transfer of Spanish striker Fernando Torres from Liverpool, the £32m capture of Belgian playmaker Eden Hazard from Lille and the £25m for Internacional's Oscar is proof enough of that fact.
However, there is a point to be considered here.
Chelsea have already indicated they rejected the opportunity to sign FC Porto's Brazilian striker Hulk and Napoli's Edinson Cavani during the summer transfer window because their respective clubs were demanding too much by way of transfer fees. Porto president Pinto da Costa reportedly would settle for nothing less than £38m for Hulk, while Napoli wanted £35m for Cavani, a Uruguayan international. If that was the case, then it is difficult to see them agreeing to the reported £48m for Falcao.
Having said that, the fact Falcao single-handedly ripped apart the Blues' defense, in Los Colchoneros' 4-1 European Super Cup win, coupled with the fact the club has yet to replace striker Didier Drogba, could convince Roman Abramovich to loosen the purse strings one last time.