Galatasaray has informed Chelsea they can sign playmaker Wesley Sneijder this summer, if they table an offer around £12.75m.
The Dutchman joined the Turkish club earlier this year in €7.5m deal, after falling out of favour with Inter Milan due to contract renewal issues. However, the 28-year-old had an inconsistent spell in Istanbul so far and has been linked with a move away from Galatasaray and a reunion with former Nerazzurri coach Jose Mourinho at Chelsea.
Tottenham Hotspur are also understood to be keeping tabs on Sneijder. Galatasaray president Unal Aysal has now responded to the rumours by stating that the club is open to selling the Netherlands international this summer, if they receive an offer near £13m.
"I have been following the rumours about Sneijder, but we have not received an offer for him. If an offer in the region of €15million (£12.75m) comes in, we might decide to sell him though," the Turk pointed out.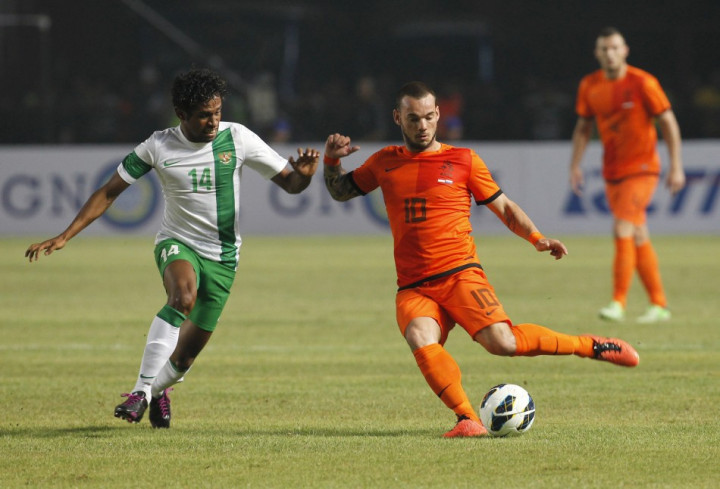 Sneijder enjoyed a good relationship with Mourinho during their time at Inter. The Portuguese tactician signed the midfielder from Real Madrid in 2009 and the pair worked together at the Italian outfit to clinch the Champions League and the domestic double during the 2009-10 season.
The Dutch playmaker, who was previously a target for Manchester United, is vastly experienced on the big stage and has 92 senior international caps to his name. However, he recently lost Oranje's captaincy, with boss Louis van Gaal handing the armband to Red Devil's talisman Robin van Persie.
"It was a pretty painful announcement. Not just because I never saw this coming, but also because I have always given my all in the role as captain. I will have to accept this, though. It was a huge blow for me," Sneijder said.
"The coach told me that I should focus on myself for now and use my energy to regain top fitness. I was planning to do that any way, though. I am more eager than ever before. I know that I have not shown enough recently and that I will have to step it up a notch. But I am confident that I can reach my level from the 2010 World Cup and Euro 2012 again," the player added.
Sneider had revealed that he is open to a second spell under Mourinho.