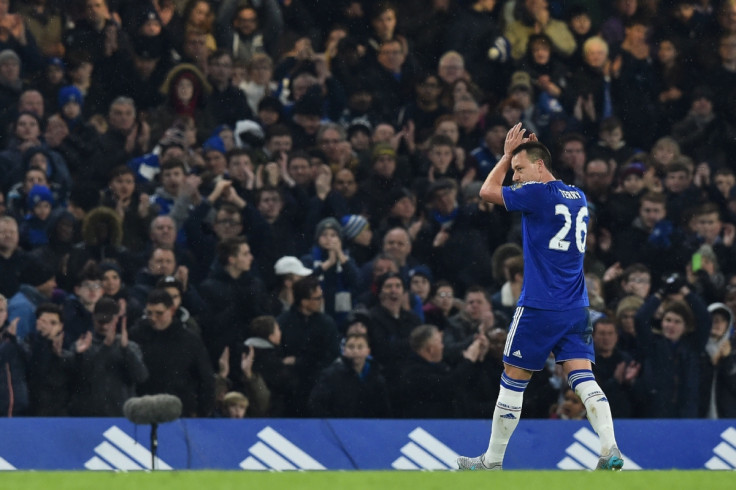 Chelsea captain John Terry will miss the FA Cup fifth-round visit of Manchester City, as he continues to be sidelined by a hamstring injury. The Blues skipper limped off during the win over Newcastle United, and despite missing the Champions League loss to Paris Saint-Germain there was hope he would be available for the cup game against Manuel Pellegrini's outfit.
Gary Cahill and Branislav Ivanovic were partnered at centre-back in the French capital with wavering success, as the West Londoners were defeated 2-1 at the Parc des Princes. The pair are expected to feature again at the heart of the back four. Opponents City have just 13 senior players fit for the trip to Stamford Bridge but Hiddink has pledged to select his first-choice eleven.
"He will not be fit for this weekend," Hiddink said of Terry, during a pre-match press conference. "I saw him this morning, he worked with the physios yesterday and he was trying a bit on the [training] pitch but still there are too many problems to be fit for the weekend.
"I hope next weekend he will be available. I cannot predict it. We have to be cautious with him as well because he likes to be there every day but we must be careful. I think maybe next weekend but knowing him he tried yesterday, but no.
"Of course it is a disappointment because he is the leader and he is the leader of this club and this team but on the other hand I am not going to complain or mourn the guys who are in his place – I have full confidence. They did well already in Paris. Our central defenders had a decent performance."
Though Radamel Falcao remains out injured, January signings Alexandre Pato and Matt Miazga are in line to make their Chelsea debuts this weekend. Both players have undergone rigorous training sessions in order to return to full fitness after the pair moved to the club after the end of the respective domestic seasons in the United States and Brazil.
[Miazga] is close, he is fit, he had a good pre-season and he is fit," Hiddink added. "Today we are doing some tests and we get the results this afternoon. Normally he will be fit and he is OK. What the weekend will bring it is too early [to know] at this moment.
[Pato] is now to be honest in the stage of two-and-a-half to three weeks of pre-season. We will see what will happen this afternoon. I have another reunion with the people who were bringing him [to full fitness]. He is getting fitter and fitter and we will see the results of the tests we did and where he can come in."