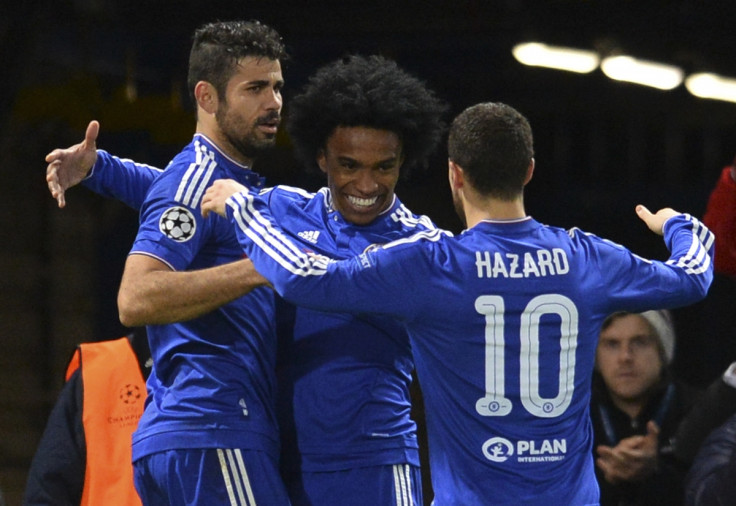 Chelsea star Willian has urged Eden Hazard, Diego Costa and Oscar to take their game to the next level against Paris Saint-Germain on Wednsesday night, as the Blues need a victory to progress through to the next round of the Champions League following a 2-1 defeat at the Parc des Princes last month. The Brazilian feels that the Stamford Bridge fans can make all the difference to overcome the difficult challenge.
Having arguably been Chelsea's standout player this season, Willian is desperate to show his form against the Ligue 1 giants, but wants his attacking teammates to help him keep the club's European dream alive.
"I improve myself every game and every day I try to train more. I always want to show my quality on the pitch, so I hope on Wednesday that I show my quality with my teammates," the Chelsea forward said to the club's official website. "Not only me, but Oscar, Diego, Eden – we can fight our opponents for the balls, so on Wednesday we have to show that."
"We always have pressure to win titles at Chelsea and we know that. We have to stay concentrated on this game. I hope we can give Guus [Hiddink] a title. It would be great for us and for him so we will try our best to do that.
"It is always difficult to win the Champions League – there are so many good teams and great players – but we have to think only about Wednesday first and step by step we can go from there."
The Blues extended their Premier League unbeaten run since Hiddink's appointment to 12 games with a 1-1 draw against Stoke City at theweekend. Yet, they will need a better result against PSG to make it to the next round.
Willian is confident that Stamford Bridge supporters can be the key to securing qualification.
"We know it is a big game and we have to show our quality. It will be difficult for us, but I think we can win," Willian insisted. "We have great quality in the squad, they have as well, and games like this are 50/50. On Wednesday, from the beginning, we have to show them what we want. From the first minute we have to show them that. They will want to dominate possession, but we have to pressurise them, press them and play our football as well."
"We are at home where we have more confidence to play and we will do that. I repeat, it will be a difficult game, but we can do it."