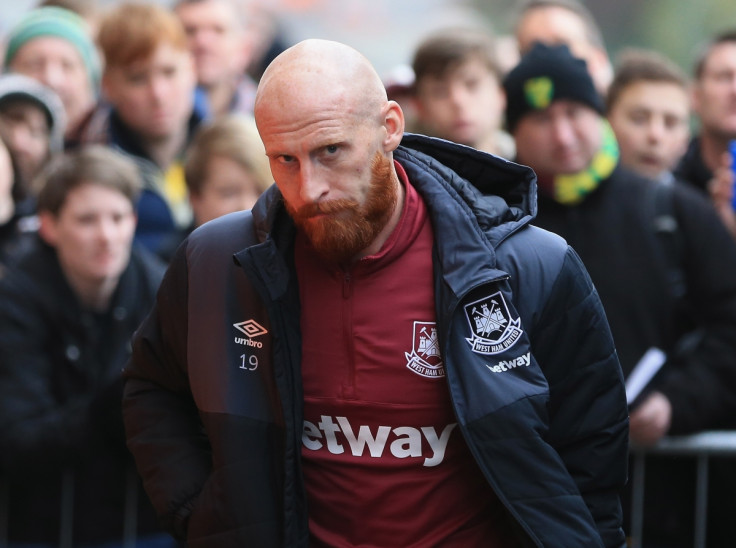 West Ham United manager Slaven Bilic has confirmed that the 19 March trip to Chelsea will come too soon for James Tomkins and James Collins, but otherwise the rest of his squad is available. Bilic, nevertheless, said the the Hammers' injury crisis earlier in the season gave them "character", which is helping their fight for a European place at the business end of the campaign.
Tomkins has not played since suffering a calf injury during a 1-0 defeat to Southampton in February. Collins, meanwhile, has been out of action since the 2 March win over Tottenham Hotspur, where he damaged his hamstring.
Bilic says the pair will remain on the sidelines for the Chelsea match, but are expected to be available after the international break when the Hammers face Crystal Palace on 2 April.
"The team news is good. We have James Tomkins and James Collins out, but they will be back after the Chelsea game," Bilic said in his press conference ahead of the game, as quoted by the BBC. "All the rest are good, so we have a big squad now. That makes us even more confident. We're taking it game by game and so far that thinking has put us in a very good situation."
The manager has every right to be happy with the current situation, following a season when many of his stars – such as Dimitri Payet, Enner Valencia and Manuel Lanzini – have been hit by injury. Now his squad is near full fitness, Bilic is confident that they can secure a win at Stamford Bridge and keep their Champions League dreams alive. They currently sit just two points behind fourth-place Manchester City.
"We are totally focused on the possibility of three points the day after tomorrow, then it's one less game to go. Injury wise we were in a bad position in November and December, but it was an important period for us to gain confidence and character.
"We weren't losing those games and we showed a stubborn side. Perhaps that is the reason we are playing well now."
Even so, Bilic says their is no pressure on their side as they are not focusing on a top four finish, but rather maintaining their current run of wins.
"We try to win every game we are playing and are not thinking where it will leave us. There are still a lot of points to play for and we have a chance of finishing really high and our aim is to continue playing like we have done.
"All I know in England is you have to reach 40 points to stay up, I don't know how many points you need to get into the Europa League or Champions League."