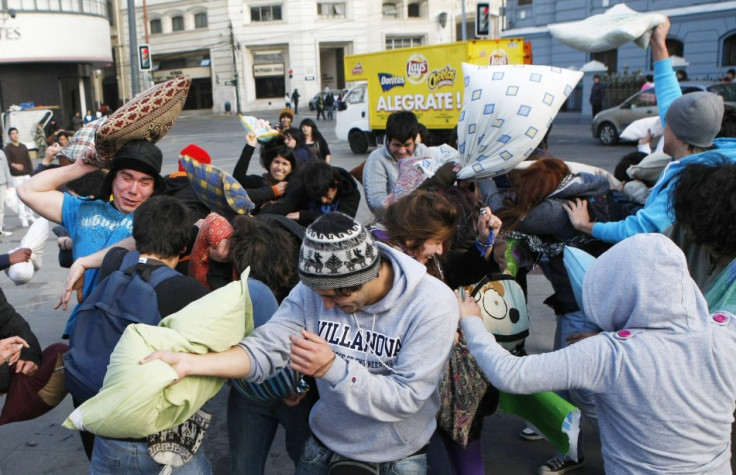 Waves of protests have hit Chile in the last few weeks and more than 500 people were reportedly arrested with 14 wounded in cities across Chile on Thursday.
According to activists, police fired water cannons and tear gas to disperse student protesters calling for education reforms.
Far from deterred, students later occupied a Chilean TV station, asking for the producers to air their message live on TV.
The station reporters later confirmed the student's operation but insited they started to leave soon after their message was recorded and broadcasted.
Deputy Interior Minister Rodrigo Ubilla confirmed that 527 people were arrested and 14 wounded in clashes.
Students have grown increasingly worried saying the current system is inequitable and have called the national government to take over the public school system, which encompasses 90 per cent of the country's 3.5 million students.
Teachers support the movement both groups had called for a national strike and two marches to take place on Thursday.
However, defending the government's reaction to the student protests, Interior Minister Rodrigo Hinzpeter insisted the demonstrations took place without permission from the Chilean government being granted.
"There are limits, and we've gone past them," government spokesman Andres Chadwick said on a national radio" "The students do not own the streets," he added.
The first protests took place after President Sebastian Pinera announced wide-ranging education spending cuts earlier this year despite the country having one of the fastest growing economies in Latin America.
Protesters point out that Chile currently dedicates 4.4 per cent of the country's gross national product to education, far below the seven per cent recommended by UNESCO.
Calling for calm to be restored, Pinera said the students and the government could still work out a solution and both camps should focus on negotiations.
His comments came after a 21-point proposal for resolving the crisis was presented this week after a first proposition failed to satisfy the students.
The new documents would enshrine the right to quality education in the constitution, which is one of the key demands of the protesters.
Further grants and lower interest rates on student loans are also included in the new proposal.
Students are expected to officially announce whether they agree with the new plan on Friday but sources said several student unions have already rejected it.