Childhood obesity in China has "exploded" over the last 30 years as the country adopts Western lifestyle habits. Research shows obesity rates have risen by 17% in boys and 9% in girls since 1985. This increase has been attributed to children consuming more fizzy drinks and fatty foods, coupled with less exercise.
"This is extremely worrying," said Joep Perk, spokesperson for the European Society of Cardiology. "It is the worst explosion of childhood and adolescent obesity that I have ever seen."
Prior to 1985, less than 1% of Chinese children were obese. However, rapid socioeconomic and nutritional changes have resulted in people eating more and exercising less. "The traditional Chinese diet has shifted towards one that is high in fat and calories and low in fibre," said Ying-Xiu Zhang, author of the study published in European Journal of Preventive Cardiology.
Zhang and colleagues from the Shandong University Institute of Preventive Medicine used body mass index (BMI) data from nearly 28,000 Chinese students from 1985 to 2014. They found the prevalence of obesity in boys had risen from 0.03% in 1985 to 17.20% in 2014. In girls, it rose from 0.12% to 9.11%.
The scientists suggest obesity has risen in boys quicker because they are given preferential treatment. Zhang said: "Traditionally the societal preference, particularly in rural areas, has been for sons. That could result in boys enjoying more of the family's resources. In addition, boys may prefer to have a larger body size than girls."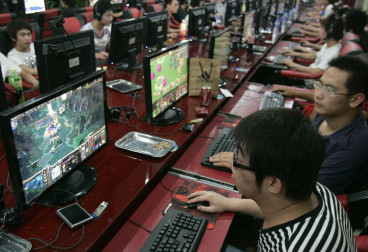 They also point to decreased physical activity coupled with more calories being consumed. Nearly 13% of boys and 4% of girls spend more than two hours per day playing computer games.
Perk said: "Computer games themselves are not the issue. The problem is that kids sit there with a two litre bottle of fizzy drink. To burn those calories they would need to walk 46km, but they don't."
In 2007, the Chinese government attempted to resolve the obesity problem by building more playgrounds, and ordering at least one hour of physical activity at school each day. However, Zhang says rural areas of China have been largely ignored in strategies to reduce childhood obesity.
"This is a wake-up call for policymakers that rural China should not be neglected in obesity interventions," he says. "We need to educate children on healthy eating and physical activity, and monitor their weight to check if these efforts are making a difference."
"China is a large agricultural country and our findings have huge implications for the entire nation. The rises in overweight and obesity [figures] coincide with increasing incomes in rural households and we expect this trend to continue in the coming decades in Shandong Province and other regions of China."
Perk added that the study findings suggest China will experience an increase in cardiovascular diseases and diabetes over the coming decades: "The popularity of the Western lifestyle will cost lives ... This calls for a catastrophe committee in China to stop the alarming rise in childhood and adolescent obesity. They need to return to their former nutritional habits instead of eating junk food. Parents must take some responsibility and point their children in the direction of healthier choices."