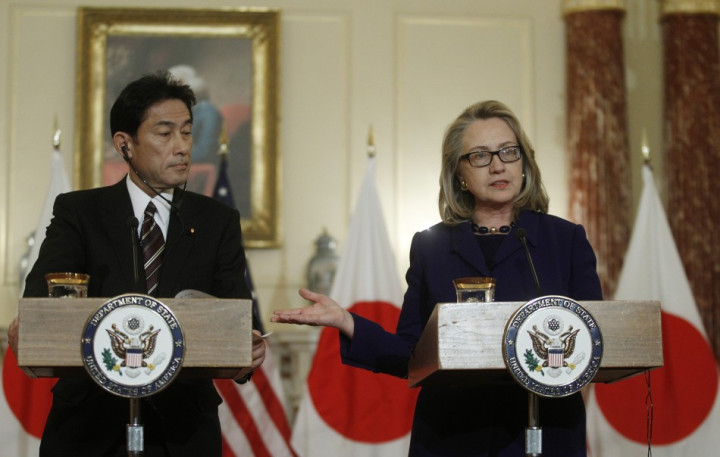 Beijing has accused US Secretary of State Hillary Clinton of being "ignorant and irresponsible" over her remarks on the long-running stand-off between China and Japan over the ownership of a group of disputed islands in the East China Sea.
China responded aggressively when Clinton renewed a US commitment to defend Japanese territorial integrity by deploying three patrol ships to waters around Diaoyu/Senkaku islands.
"Clinton's comments were ignorant of essential historical facts and international law, and indiscriminate of rights and wrongs," an article by Chinese state-owned Xinhua news agency read.
The communist party's mouthpiece accused Clinton's "chaotic" foreign policies of exacerbating tensions between Tokyo and Beijing.
"Irresponsible US remarks concerning the Diaoyu Islands will worsen rather than relieve the tension over the issue," it said.
"With intensified tension and deteriorating security within the region, no less the prospect of reviving militarism in Japan, the security and economic recovery of the US would be largely affected. It is unwise for politicians to act shortsightedly," Xinhua wrote in a thinly veiled warning not to interfere in the area.
Xinhua blamed the confrontation on the US, saying it had "an unshirkable historical responsibility" because it returned administration of the archipelago to Japan in 1972.
Undermine the status quo
During a meeting with Japanese foreign minister Fumio Kishida, Clinton acknowledged that the islands, known as Diaoyu in China and Senkaku in Japan, were under Tokyo's administration and warned against "any unilateral actions" seeking to undermine the status quo.
"Although the United States does not take a position on the ultimate sovereignty of the islands, we acknowledge they are under the administration of Japan," Clinton said.
"We oppose any unilateral actions that would seek to undermine Japanese administration, and we urge all parties to take steps to prevent incidents and manage disagreements through peaceful means," Clinton, who will be stepping down as Secretary of State, said.
"Our alliance with Japan remains the cornerstone of American engagement with the region."
Both Tokyo and Beijing claim sovereignty over the small, ininhabited islands, which are located south of Okinawa and north of Taiwan.
Japan bought the archipelago from their Japanese family owners in September, triggering a diplomatic stand-off and provocations on both sides, including beach landings by nationalist protesters and naval patrols.
In the latest propaganda move, China has redrawn its official territorial map to include the disputed group of islands.