China's Dead Pig Scandal: Shanghai's Huangpo River Carcass Total Hits 14,000
Officials ridiculed for feeble explanations for pork tide mystery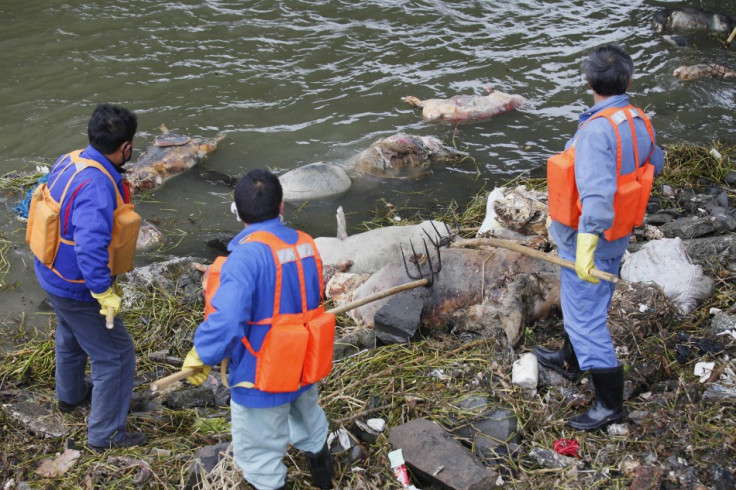 The number of pig carcasses found floating in Shanghai's main river and its tributaries has grown to 14,000 as city authorities battle to contain public panic and a potentially serious health hazard.
City leaders have failed to explain why so many dead pigs have been found over the last two weeks in the Huangpo River - one of the main sources of drinking water for the metropolis of 23 million people.
"Those pigs must have come from somewhere," author Li Mingsheng said. "That's a basic question but the government still has not told us that."
Zhao Shumei, vice-mayor of the city of Jiaxing, 100km (60 miles) south of Shanghai, said the pigs had succumbed to cold weather but his claim has been ridiculed.
"They are only giving the run-around," said Huang Beibei, a Shanghai microblogger whose revolting photographs of the pig tide sparked local media coverage and government attention. "Who believes what they are saying?"
The agriculture ministry's chief veterinarian, Yu Kangzhen, said that there had been no major outbreak of swine disease to account for the dumped pigs and added that Shanghai's drinking water was safe.
"The government has been evasive and vague. The explanations are bordering on being ridiculous," columnist Liu Shengjun wrote on his microblog. "It reminds me of Sars [severe acute respiratory syndrome, which killed nearly 800 people in 2002 and 2003] and I hope history will not repeat itself."
The Chinese government was blamed for the spread of Sars by refusing to acknowledge it when it started to spread.
Villagers along the Huangpo have given various explanations for the pig tide. The theories include farmers dumping carcasses to avoid a crackdown on an illicit trade in unfit pork and the practice of feeding pigs arsenic to make their skin look shinier.
Just eight small farmers in Jiaxing have been traced as the owners of some of the dead pigs and have been fined 3,000 yuan (£319).
"It is just disgusting and the government's statements have been unbelievable and disappointing," Zhang Jian, a biotechnology salesman in Shanghai, said.
"I bet it will end up with nothing definite. That is the typical Chinese-style solution."
© Copyright IBTimes 2023. All rights reserved.