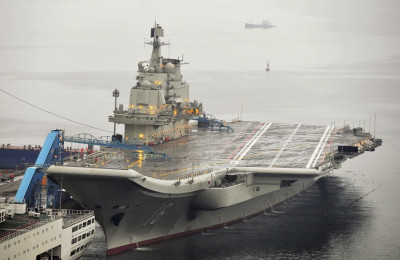 China's first aircraft carrier has entered service amid growing regional tensions with Japan and Taiwan over the ownership of a group of islands in the East China Sea.
Outgoing Chinese president Hu Jintao attended the launch ceremony of the 300m (990ft) carrier Liaoning, named after the province where the vessel was refitted after it was bought from the former Soviet Union.
"Developing an aircraft carrier was an important strategic decision made by the Communist Party of China," said premier Wen Jiabao at a naval base in Dalian, northeast China.
"[It] has important and profound meaning for modernising our navy and for enhancing national defensive power and the country's overall strength."
The Liaoning was sold at a knockdown price when construction on it in the Ukraine halted after the collapse of the Soviet Union.
The Chinese purchaser initially intended to turn it into a floating casino in China's gambling hub of Macau.
In 2001 the ship was towed to China but it was 10 years before officials finally disclosed that it was being refurbished for military purposes.
Analysts believe that the Liaoning will be used for training purposes only as China does not yet have the specially adapted aircraft and pilots ready to operate from the vessel.
With Liaoning's launch China joins an exclusive club of world navies equipped with aircraft carriers.
The US has the largest fleet - 11 carriers. Italy and Spain have two, while Russia, the UK, France, India and Brazil one.
The launch of Liaoning comes amid the escalating row with Japan over the archipelago called Senkaku in Japan and Diaoyu in China.
"China will never tolerate any bilateral actions by Japan that harm Chinese territorial sovereignty," China's vice-foreign minister, Zhang Zhijun, said.
Taiwan also claims the islands and has sent 100 fishing boats and coastguard ships into the disputed waters to protest against rival claims.