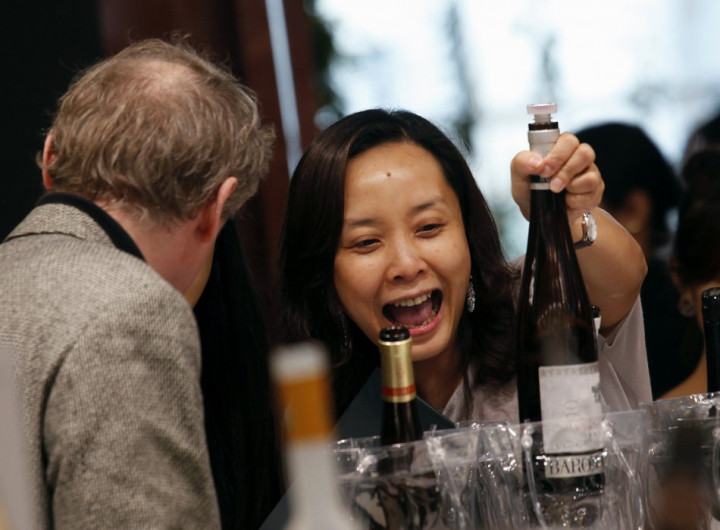 A Chinese woman was hit in the face with a champagne bottle in a racist attack near Bordeaux, days before the opening of one of the largest wine trade shows in France.
Described as "an act of xenophobia" by French interior minister Manuel Vallas, the attack, as Bordeaux's Vinexpo show got under way, has prompted anger and condemnation in China.
The 24-year-old woman was with six fellow Chinese students at La Tour Blanche School of Viticulture and Oenology near Bordeaux, when they were assaulted at a home in the town of Hostens, 50 km south of the Aquitaine region capital.
Three drunks shouted racist abuse and hurled a bottle at them, police said. The woman was seriously hurt and taken to a Bordeaux hospital for treatment.
The Chinese embassy condemned the attack and urged French authorities to "ensure the safety of Chinese students in the country".
The three alleged attackers were arrested but Chinese bloggers were sceptical.
"They must be sons or daughters of government officials, otherwise, how come they get so much attention?" @Moonyaohuihu wrote on China's most popular micro-blogging site, Sina Weibo.
The head of La Tour Blanche confirmed that one of the victims was the daughter of a retired senior government official in China.
The attack has added to the nervousness of French winemakers who are worried about an investigation by Beijing into the alleged dumping of EU wines in China and into EU subsidies.
The investigation was launched in retaliation for EU levies on Chinese-made solar panels which has increased fears that French wine exports to China may be taxed.
China imported 140 million litres of French wine, worth £500m, in 2012 and local winemakers fear business could be badly hit if the tax were imposed.
"It [the assault] is an unspeakable act. It is the image of France that is damaged with the xenophobic attitudes," agriculture minister Stephane Le Foll said at Vinexpo's inauguration ceremony.
The assault was the latest in a string of incidents involving Chinese citizens in France. Chinese tourists are renowned for carrying large amounts of cash and are often targeted by local robbers, Le Figaro reported.
"There have been a growing number of 'aggressions' in the last six months," Lu Tang, a director at Paris travel agency Chine Tourisme, said.
"How dangerous is France! We need to be cautious about going there now, and avoid going as far as we can. We should go to better countries," a Chinese netizen wrote on Sina Weibo.