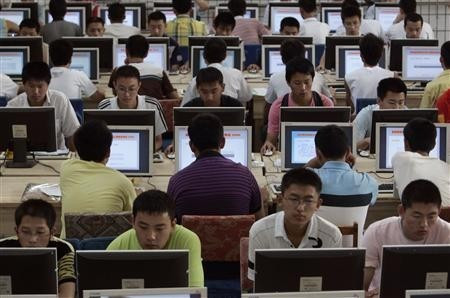 China's services sector has grown at a marginal rate in April but slid to the lowest level in 20 months, showed a private data, raising concerns about the momentum of growth in the world's second-largest economy.
The HSBC services Purchasing Managers' Index (PMI) fell to 51.1 in April from 54.3 in March. This follows an earlier released non-manufacturing PMI of 54.5 in April, down from the March reading of 55.6.
A reading above 50 indicates expansion of activity in the sector, while one below 50 points to contraction.
"The cooling of service sector activity in April likely reflected the knock-on effect of slower manufacturing growth, the impact of property tightening measures and the spreading bird flu," said HSBC's China chief economist Qu Hongbin in a statement.
"Again, this started to bite employment growth. All these are likely to add some risk to China's growth in 2Q, as there's still a bumpy road towards sustaining growth recovery."
China's services sector, which accounted for 46% of the country's gross domestic product in 2012, is considered as crucial as the manufacturing sector for the growth of the economy.
China's economy expanded 7.7% in the first quarter, less than analysts' forecasts and below the 7.9% pace seen in the last quarter of 2012. Beijing has set 7.5% growth target for 2013.
Two separate PMIs for April released in the previous week showed slow pace of activity in the manufacturing sector mainly due to weak demand for exports and property-market overheating, which are expected to cool China's economic growth for a second straight quarter.