India-China Standoff over Kashmir 'Intrusion' by Beijing Troops
Chinese troops allegedly cross disputed border in Ladakh region of Himalayas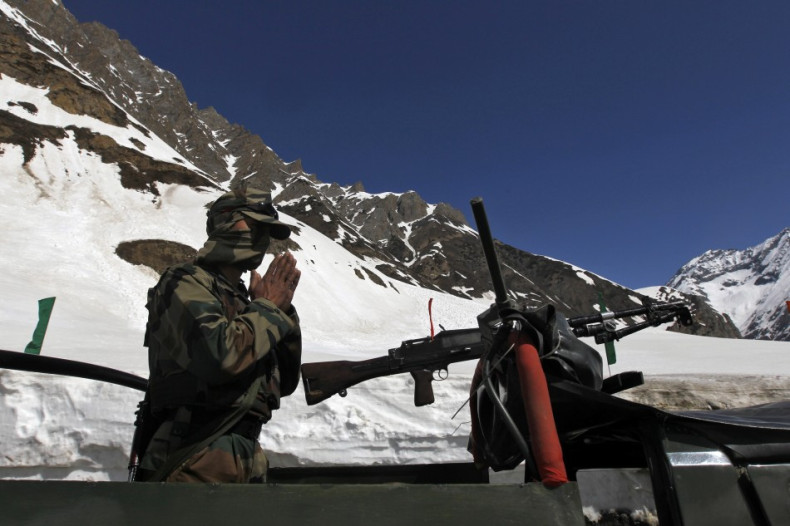 Diplomatic relations between Beijing and New Delhi have soured over an alleged incursion by Chinese troops far into Indian territory in the disputed Ladakh region of eastern Kashmir.
Indian officials claim that a platoon of Chinese troops crossed the de facto boundary between the two nations in the Himalayas and pitched tents in the Depsang valley, some 10km (six miles) into Indian territory earlier this month.
China publicly denied the crossing ever happened and dismissed the claims as media speculation. Indian public opinion has been loud and angry as Ladakh remains a sensitive issue since the crushing defeat inflicted on India in the 1962 war.
Indian opposition parties accused Prime Minister Manmohan Singh's government of not doing enough to counter the Chinese.
"China knows the Indian government is weak. We have a powerless prime minister and they will try their best to take advantage of the situation," said Yashwant Sinha, a former external affairs minister with the opposition Bharatiya Janata Party.
The Times of India reported that Delhi was ready to increase the number of troops in the area.
"We will take every step to protect our interest," said Indian defence minister AK Antony.
Indian foreign ministry spokesman Syed Akbaruddin asked Beijing to withdraw troops, adding that the two Asian giants had "resolved all previous incidents peacefully and it is our hope that we would resolve this incident too peacefully".
Several inconclusive rounds of talks have reportedly been held by Indian and Chinese army commanders.
According to Delhi, Chinese troops have repeatedly crossed the boundary in recent years. Litter bearing Chinese characters has been found.
"With the boundary not demarcated, it is inevitable for problems to crop up in border areas," Chinese foreign ministry spokesperson Hua Chunying said.
"When there is a problem in border areas, the two sides should resolve it through friendly consultations."
"Neither China nor India have any interest in this because of their great economic relations," said Chris Ogden, lecturer in Asian security at the University of St Andrews.
"I don't think the Chinese government purposely moved inside [Indian territory]. Indian media are feeding it [the incident] quite a lot."
China has recently become India's biggest trading partner. Two-way trade jumped from $5bn in 2002 to nearly $75bn in 2011, but declined slightly last year in the wake of the economic crisis.
India's foreign minister Salman Khurshid is due to visit China in May, while Chinese premier Li Keqiang is expected to return the visit later the same month.
"If it was a big thing, the trips would have been called off," Ogden said. "It's overblown".