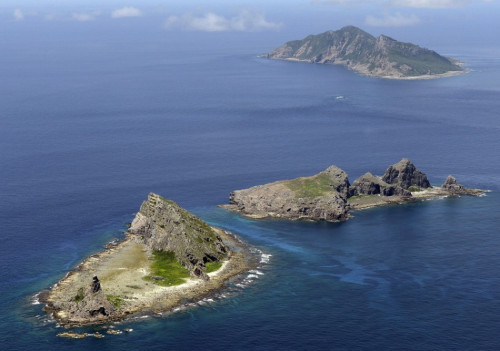 China's official news agency has accused the US and Japan of escalating a diplomatic row in the East China Sea over an air defence zone imposed unilaterally by Beijing.
As tensions mounted over a small archipelago, Beijing demanded that all aircraft routes through the newly delineated Air Defence Identification Zone had to abide to Chinese aviation rules.
The move was condemned as illegal and destabilising by Japan and the US. The islands at the centre of the squabble, known as Diaoyu in China and Senkaku in Japan, have been subject to ownership rows for decades.
The Communist party's mouthpiece Xinhua accused Japan and the US of double standards.
"Washington and Tokyo accused China of undermining the stability of the Asia-Pacific region," Xinhua wrote. "But in fact, it is Washington and Tokyo that pose threat to the peace and stability in the region."
A security treaty ties the US to provide Japan military support whenever a Japanese-administered territory is under attack.
"Their logic is simple: they can do it while China cannot," the article author, Wu Liming, wrote.
"It is Washington and Tokyo who are indulging in the trick of calling white black. It is high time they stopped doing so."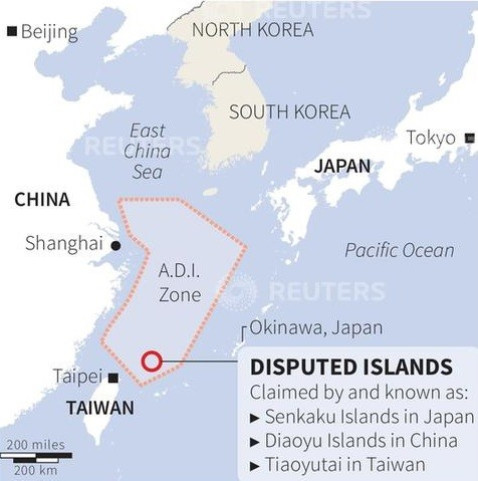 The Japanese government demanded that China scrap the restricted airzone and urged airlines to ignore it. Under China's move, aircrews going through the disputed region must provide identification and their flight plan.
A number of airlines operating in the area, including All Nippon Airways, Japan Airlines, Singapore Airlines and Qantas, said they would respect the new rules after Beijing threatened "emergency defence measures" against unidentified aircraft.
"China will take timely measures to deal with air threats and unidentified flying objects from the sea, including identification, monitoring, control and disposition," a Chinese defence ministry spokesman told Xinhua.
Australia has also joined the quarrel by summoning the Chinese ambassador.
Australia's Ministry for Foreign Affairs said it was concerned about China's "sudden announcement" and called in Beijing envoy to Canberra for an explanation.
"The timing and the manner of China's announcement are unhelpful in light of current regional tensions and will not contribute to regional stability," a ministry spokesman said.
"Australia has made clear its opposition to any coercive or unilateral actions to change the status quo in the East China Sea."
China's foreign ministry said ambassador Ma Zhaoxu provided a full explanation and hoped that Australia would understand them.