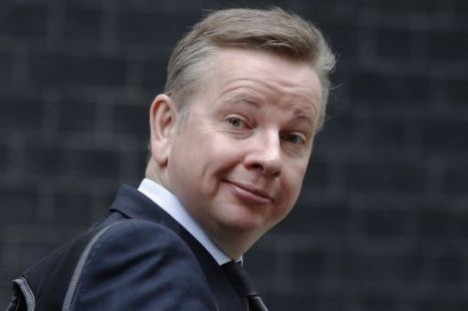 In September, it was announced that six-year-old Suri Cruise, the daughter of Tom Cruise and Katie Holmes, will be learning to speak Mandarin at school.
However, this interest in speaking Mandarin is not a new celebrity phenomenon.
Two years ago, the British government announced a partnership with China to train 1,000 additional Mandarin teachers for secondary schools in England.
A 2010 survey by the Confederation of British Industry found employers in the UK said Mandarin and Cantonese were second only to French as languages they would be looking for in future employees.
Education secretary Michael Gove said offering young people the opportunity to learn Mandarin would "help to encourage mobility between the two countries".
Elizabeth Reid, Chief Executive at the Specialist Schools and Academies Trust, said: "China is at the centre of the global economy and the next generation will need to understand its culture and be able to work in its language."
Mandarin is becoming increasingly important in the business world. Ying Fu, Coordinator for Mandarin, Cantonese and Korean at King's College London, said China's economic growth has led to more professional people learning the language.
"Learning Mandarin can help with job hunting. We offer evening courses in Mandarin, which are open to everybody," she said.
"There has been a big increase in the number of people taking the evening course. At the moment, we have around 130 students, last year there were around 100 and in 2010 there were about 70 or 80.
"Because of the economic development in China, it's important to learn it. In the evening classes, professional people are coming after work to study in order to speak Mandarin and increase their chances in business."
However, are school students learning Mandarin? Chris Keates, general secretary of NASUWT, said that problems within the government means schools are unable to offer it as a subject.
"The NASUWT would certainly encourage schools to offer Mandarin as an option if they feel it would be beneficial to their students.
"However, the impact of the coalition government's education reforms, which have led to the atomisation of the education system, with schools increasingly encouraged to compete against one another rather than work collaboratively - and the break-up of the local authority's role for overseeing education through the drive for academies and free schools - is all likely to make it harder for schools to find the resources and the ability to develop and deliver a high quality curriculum offer in Mandarin."
Indeed, despite the government push, the uptake of Mandarin at school level has remained fairly steady since 2007. According to the Language Trends Survey 2011, the uptake of Mandarin dropped slightly in both maintained and independent schools, going from 37 per cent to 36 per cent in independent schools, and 16 per cent to 14 per cent in maintained schools.
As well as a drop in student numbers, these figures also show how Mandarin is much more widely available in independent schools than it is in maintained ones.
Ann Swarbrick, languages education lead for Initial Teacher Training at the Languages Education Team, of the CfBT Education Trust, said: "We are involved in improving the quality and quantity of qualified teachers of Mandarin in our schools.
"We work with the British Council and Hanban providing a support programme for the 70-100 experienced Chinese interns who are sponsored by the Chinese government to teach Mandarin in UK schools for a 12-month period.
"We focus very much on languages pedagogy relevant to them to help them integrate into the primary schools or secondary languages departments in which they are based.
"The problem here is not applicants but quality placements. We have 20-30 applications per year, but the number of schools introducing Mandarin is small at the moment. Providing an appropriate teaching timetable is challenging and so some trainees offer a second subject."
The lack of Mandarin teachers was also highlighted by David Laws, a Liberal Democrat spokesman, who said the push for teaching Mandarin would never work. "This is nothing but a headline-grabbing gimmick which will never work in practice," he said.
"It is delusional to think that many children are going to benefit from Mandarin teaching when there are only a handful of such teachers in the country."
The government's five-year programme began in July 2011. It is financed by the Specialist Schools and Academies Trust and Hanban (the Confucius Institute Headquarters).
The partnership aims to supply enough Mandarin teachers to meet demand. However, the situation is being kept under review.