China overtook the United States as the world's leading importer of crude oil for the first time in April.
China's purchases are expected to remain robust despite slowing economic growth, Reuters reported, moves that will have sweeping implications for the global oil and commodities markets.
China's crude oil imports hit a record of almost 7.4 million barrels a day (bpd) in April 2015, putting it ahead of the US's estimated imports of 7.2 million bpd for April, Reuters data showed.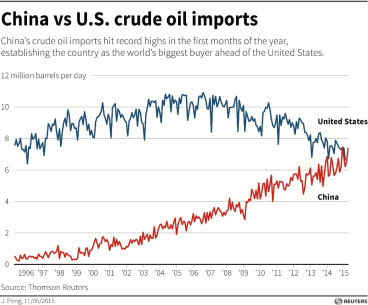 While China may drop back to the second place in the coming months, it is clearly headed towards overtaking the US as the world's top crude importer on a permanent basis, the news agency added.
China is already the world's biggest energy consumer. Overtaking the US will see China become the top user of almost all commodities, including coal, iron ore and most metals, with far-reaching consequences for markets that continue to shift from West to East.
Seng Yick Tee, director of SIA Energy in Beijing: "They will definitely continue to buy more crude to fill up new storage capacity, both strategic and commercial."
Philip Andrews-Speed, head of energy security research at the National University of Singapore said: "Being the world's biggest crude importer should give China more buying power. China's engagement in the Middle East will continue to change, and it will no longer be the minority player.
"China becomes not only more important to Middle Eastern states, but the Middle East becomes progressively more important to China relative to other countries that are importing less oil."
In March, Saudi Aramco, China's largest crude oil supplier, said it aims to boost oil supplies to the world's second-largest economy.
Saudi Arabia is the world's top crude exporter. Its state-owned oil firm has an over 10% market share in China and it expects its Chinese operations to grow with Chinese demand.
A 60% drop in global oil prices between June 2014 and January, owing to a supply glut prompted China to build stocks.