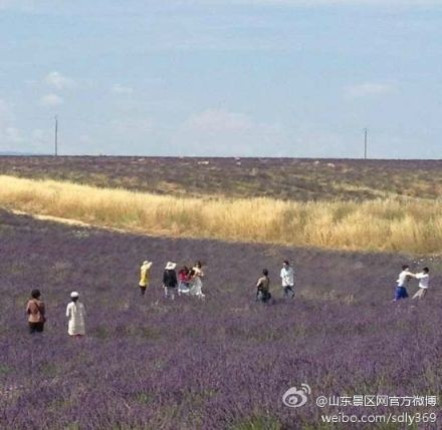 Pictures of two Chinese couples fighting in a lavender field in southern France after an alleged "photobombing" incident have gone viral after they were uploaded on Sina Weibo.
The photos were put on Weibo, the Chinese version of Twitter, by a tour guide. They show a woman, still in her wedding dress, wrestling off another woman and two men punching each other.
The Chinese guide told the Global Times that the fight began over suspicion of a photobombing - the act of ruining other people's photos by running in the background or making a silly face.
"It started because the young couple and their friends accidentally stepped into the newlyweds' photo. The women began to argue first, and then the boyfriend and the groom joined in," he said.
"Most people there tried to drag them apart since it was quite embarrassing," he added.
"The two young men fought shirtless, and the bride's dress was ripped off. Parts of the field were trampled," the guide said.
Onlookers in the field were "very shocked by the incident", according to the man, who asked not to be named.
In May, Chinese vice-premier Wang Yang slammed Chinese tourists for harming the country's image with their "uncivilised behaviour" and lack of manners. Wang complained about the tourists' behaviour including "talking loudly in public places, jay-walking, spitting and wilfully carving characters on items in scenic zones".
Earlier this year, a 15-year-old Chinese boy carved his name into a 3,500-year-old temple in Egypt. The boy was identified online and the parents were forced to apologise. In January, a Chinese mother was pictured allowing her toddler son to go to the toilet on the floor on a Taiwan airport.