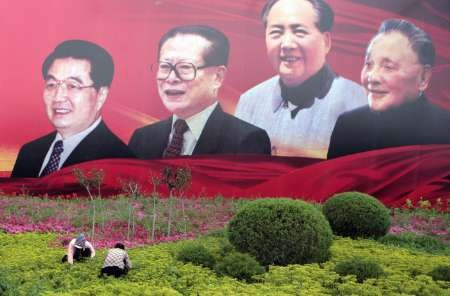 China's official media on Thursday rejected recent reports suggesting former president Jiang Zemin had died, describing them as "pure rumour".
The state-run Xinhua news agency, quoting "authoritative sources", issued a statement on Thursday saying reports of Mr Jiang's death in "some overseas media organisations" were untrue, following days of speculation about the 84-year-old former leader's health.
In recent days, after a few Hong Kong-based media reported his death, rumours about his health spread in Chinese websites, with some reporting he had passed away.
On Wednesday, one Hong Kong-based television channel, ATV, citing anonymous sources, reported Mr Jiang had passed away in Beijing's 301 Military hospital, where he had been reported to have been undergoing treatment.
Although the 84-year-old former president, car-factory manager and Soviet-trained technocrat no longer retains any official positions of power, he still holds residual influence within the old guard at the top of the Communist Party.
Xinhua stopped short from releasing further details about Mr Jiang's health. It seems that the president's absence from the grand celebrations which were recently held to mark the Communist Party of China's 90th Anniversary might have helped start the rumour.
Mr Jiang was given a prominent role during the sixtieth anniversary celebrations of the People's Republic of China in October 2009, seen by some Chinese analysts as a reflection of the considerable influence he continued to wield behind-the-scenes well into his political retirement.
The former head of state, who served as the general secretary of the Communist Party of China and as president over two five-year terms starting in 1993, had been the subject of similar unfounded rumours about his health last year.
The Chinese government is known to be secretive and refuses to directly release information about the health of former leaders, and rarely responds to media speculation about them.
Following the rumours, Chinese authorities on Wednesday moved to clamp down on the intense debate on Chinese micro blogs about the former leader's health, blocking searches for Mr Jiang's name on the popular Sina Weibo microblog, which has more than a hundred million users.
Chinese sources say a search under his name yielded no results on Wednesday, only displaying a message that the results could not be shown "according to the relevant laws, regulations and policies" -- usually an indicator of blocked terms. Searches for the "301 military hospital" were also blocked, as were searches for any river - Jiang means "river" in Chinese. The searches remained blocked on Thursday.