China has produced its first commercial aircraft that is expected to compete with the likes of Boeing and Airbus. The C919 jetliner, which has been in development since 2008, was presented to reporters in Shanghai soon after it came off production lines.
The Communist Party's initiative is one of several seeking to transform China from a factory for cheap labour to a manufacturer of profitable technologies in aviation, clean energy and others. "It's a major push for the country, as they want to be known as a major player" in airplane manufacturing, Mavis Toh, Asia air transport editor for Flightglobal magazine, was quoted as saying by Associated Press.
The twin-engine plane can carry 168 passengers and will compete with the Airbus A320 and Boeing 737. Its engines, avionics and critical systems are being supplied by foreign companies or by joint ventures between China and foreign companies.
COMAC, which manufacturers the C919 jetliners, has received orders for 517 aircraft from 21 customers, mostly Chinese carriers. The C919 is due to enter service in 2019.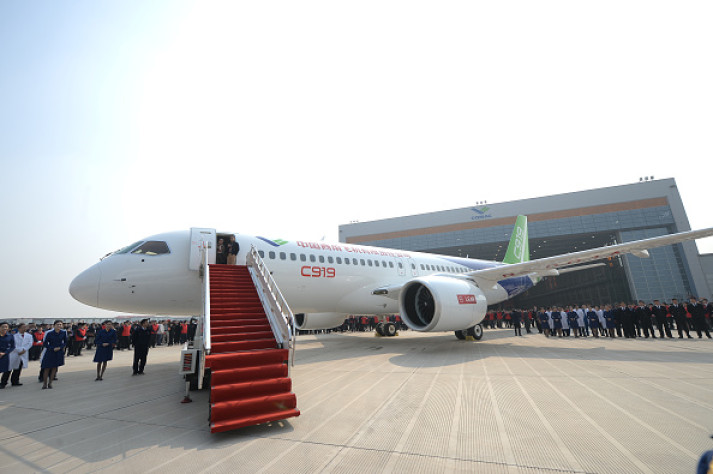 The sale of the C919 jetliners is relatively easy for China because major airlines in the country are state-owned. Also, the demand for civilian jetliners is robust. According to Boeing, China's total demand for civilian jetliners will touch 5,580 planes over the next 20 years and be worth $780 billion.
"China offers a terrific market, superb engineering talent and reasonably low costs. Developing a national aircraft industry makes a lot of sense," said Richard Aboulafia, vice president for analysis at the consultancy Teal Group. Aboulafia said manufacturers are required to favour components produced in China, which "means Western suppliers need to give away technology to play on this jet."
One of the biggest components of the C919 jetliner -- the core processing and display system -- is being supplied by a joint venture between GE Aviation Systems and AVIC, a state-owned Chinese military contractor. Other suppliers include Honeywell, Rockwell Collins and Hamilton Sunstrand.