Commuters in Zhuzhou, China, will be the first to experience a new "rail-less" train that runs on electricity and can reach speeds of 43 mph.
Developed by China's CRRC corporation, the "Autonomous Rail Rapid Transit" (ART) can carry up to 300 passengers and follows a virtual train line of dotted white lines. It was revealed in June and trials began this week in the Hunan Province of China.
The new mode of transport can only travel 15 miles at a time but can be recharged in just 10 minutes via conductors on the roof of the carriages.
Depending on the time of day, carriages can also be added for peak hour commuters and public event attendees. The standard 300-person train stretches to 30m in length. A five-carriage train is also available, which can hold 500 people. The Zhuzhou city government plans to build a 6.5km ART line throughout the downtown area and will officially open the service in 2018.
Work on the ART began way back in 2013 to ease congestion in China's crowded urban centres. The government also wanted to build a cost-effective solution to traffic congestion and the CRCC has managed to build the ART at nearly the same costs as a regular bus.
China is no stranger to offering up unique modes of transport, such as the road straddling bus that would allow cars to pass underneath. However, IBTimes UK reported in August 2016 that the concept was a hoax to try and con investors.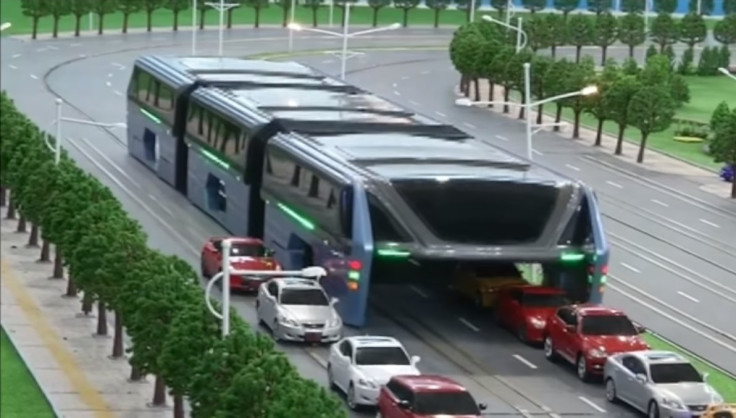 The Transit Elevated Bus (TEB) was a solar electric tram-bus hybrid vehicle that can carry up to 1,200 people that runs on rails embedded in roads, similar to a tram. The carriage of the vehicle was elevated above the road in order to ease traffic congestion by separating public transport from private vehicles.