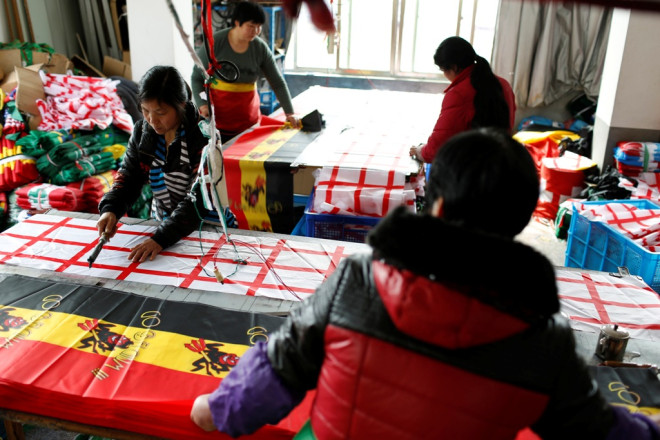 China's factory activity growth slowed to an eight-month low in February, government data showed, underpinning signs of a modest slowdown in the world's second-largest economy as demand weakened.
The government's Purchasing Managers' Index eased to 50.2 in February from 50.5 in January, slightly ahead of market expectations of 50.1.
A PMI reading above 50 signifies expanding activity while one below that level highlights a contraction.
The index for new orders dropped below 50 and employment was its lowest point since the global financial crisis.
The new orders sub-index in the official PMI fell to an eight-month low of 50.5 in February from 50.9 in January and the sub-index for export orders fell to 48.2 last month, also a eight-month low, from 49.3 in January.
The China report kicks off a round of monthly reports on the health of the global manufacturing sector, with similar surveys from the rest of Asia, Europe and the US due out on 3 March.
"Judging from market demand and production in some industries, we expect economic growth to remain steady in the future," said Zhang Liqun, an economist at the Development Research Centre, which helps compile PMI data.
"We should fully consider possible risk factors and further improve macroeconomic policy reserves to help consolidate the steady trend in economy growth," Zhang added.
ANZ said in a note to clients: "China's official PMI declined for the third consecutive month, at 50.2 in February, the lowest level since last June. The private-sector based HSBC PMI also remained below the benchmark level of 50 for two straight months.
"While the drop of the PMI could be largely attributed to the festival effects, other indicators also point to a weaker-than-expected growth profile. The crude steel output stayed at a low level, and the iron ore inventories in ports and steel mills continued to build up. ANZ China commodity prices (CCI) reached the lowest level since last July, reflecting a sluggish demand as well."
"If the downward trend remains, we view that the risk of sub-7% growth in H1 2014 will increase. If the Chinese authorities set the growth target unchanged at 7.5% in the upcoming National People's Congress, we believe that the government will have to roll out pro-growth policies, which will then delay the long-awaited structural reforms.
"The recent weakening of the RMB and the sharp drop in the short-tenor market interest rates indicate that the PBoC could have fine-tuned its tight monetary policy since the 'cash crunch' in last June. While low interest rates could help the corporates and exporters, they could fuel the shadow banking activities again," ANZ added.
In 2013, China's economy expanded 7.7%, steady from the previous year and a tad above market expectations of a 7.6% growth.