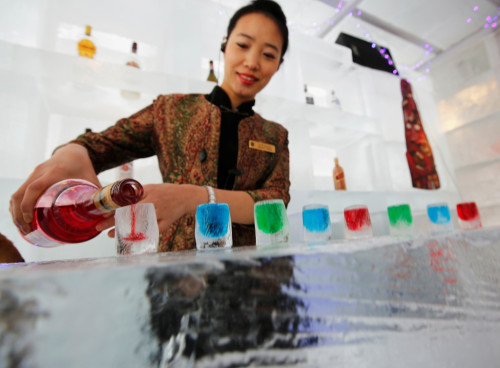 China's services sector grew at its slowest pace in almost two-and-a-half years in January after new orders rose at their weakest pace since June 2013, a private survey showed.
The HSBC/Markit Services Purchasing Managers' Index (PMI) retreated to 50.7 in January from December's 50.9. The January low was last seen in August 2011.
The HSBC/Markit survey followed a Chinese government PMI report that showed growth in the sector dropped to a five-year low in January as business confidence fell to four-year lows.
The PMI data showed new business growth fell to a seven-month low in January. Several economists attributed January's weak demand to the Lunar New Year holidays that began on 31 January – several businesses shut shop early for celebrations.
Friday's data was the last of four monthly PMI releases. Together, they confirmed that weaker domestic and foreign demand had weighed down on manufacturing and services output in Asia's largest economy.
Analysts polled by Reuters forecast China's economy would grow 7.4% in 2013. While that number is far ahead of other major economies, it is still China's worst performance in 24 years, reported Reuters.
China's growth could slow down further as Beijing pushes ahead with difficult reforms.
Hongbin Qu, chief economist, China & Co-Head of Asian Economic Research at HSBC said in a statement: "The slower expansion of services activities in January reflected soft manufacturing growth and the impact of Beijing's latest measures to curb official extravagance. As business sentiment remains stable, we expect services growth to bounce back a little in the coming months. Yet a meaningful improvement relies on stronger growth of manufacturing sectors and the implementation of reforms to boost service sectors."
The Last Wild Card
The boss of the world's largest bond fund voiced concerns about investing in China, branding it the "wild card" of emerging markets and flagging up the region's lack of transparency.
In an interview with Bloomberg TV earlier in the week, Bill Gross, the co- founder and managing director of Pimco said that uncertainty about China's growth this year is adding to investors' unease and demand for the safest of assets.
A fear of a slowdown in China has hit global investor sentiment and emerging markets have suffered the most.
Although China is currently the world's fastest-growing major economy, its economic growth has slowed down in 11 of 14 previous quarters.
For the full year 2013, the Chinese economy grew 7.7%, unchanged from 2012 and the slowest pace of growth since 1999.